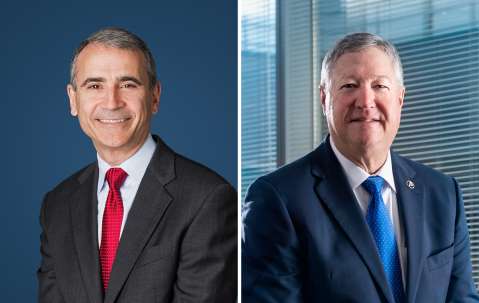 Navigating Through the Perfect Storm
In a year of unprecedented change, The Aerospace Corporation continued to deliver the trusted technical expertise and objective analysis that have defined our company for more than 60 years, supporting our customers across the space enterprise as they work to advance our nation's leading role in space.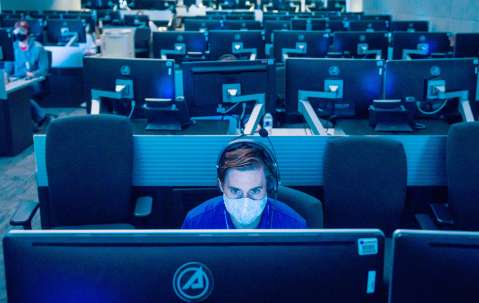 Resilience Through COVID-19 and the New Normal
During the COVID-19 pandemic, Aerospace continued to deliver for our customers by adapting with resilience, innovation and velocity, overcoming unprecedented challenges to ensure mission success while prioritizing the health and wellbeing of our people.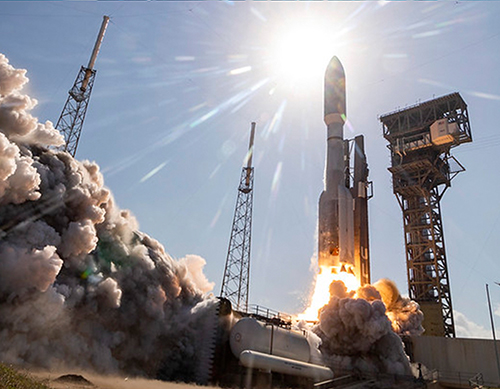 AEHF-6: Aerospace Rapidly Adapts for COVID-19 to Support Space Force's First Launch
Aerospace exercised our comprehensive launch verification process to augment ULA's internal mission assurance process to ensure success for the U.S. Space Force's inaugural flight.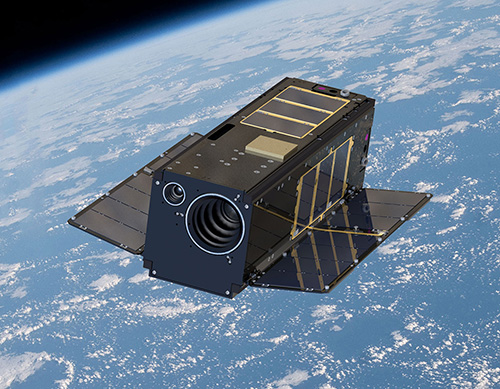 New COVID-19 Norms Foster Agile Smallsat Innovation
As a result of COVID-19, Aerospace engineers have pioneered new, innovative means of accomplishing laser alignment communications remotely, in compliance with new health safety guidelines.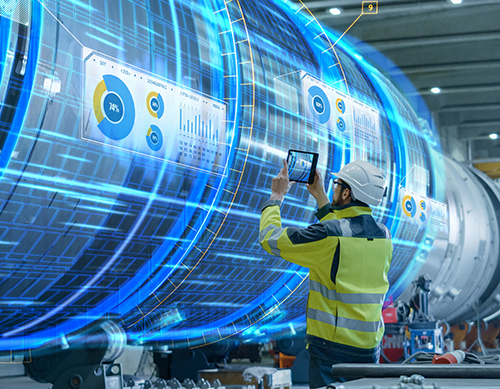 How Aerospace is Shaping the Workplace of the Future
Aerospace has embarked on an effort to envision how our future workforce will operate and the tools, training and support we'll need to accomplish our mission.
Aerospace 60th Anniversary
History of Aerospace Timeline
Aerospace was incorporated on June 3, 1960 during the dawn of the space age and our early years were defined by the ambitious projects that continue to shape the space enterprise today. This interactive timeline allows you to take a journey through our rich history and proud legacy of technical excellence and commitment to mission success as the nation's trusted partner.
Support Where It's Needed Most
Aerospace works side by side with our customers wherever they are, staffing two dozen locations across 11 states, anchored by our two largest campuses, in El Segundo, Calif., and Chantilly, Va. This past year saw growth across Aerospace's network of campuses, including continued expansion at our Colorado Springs, Colo., Albuquerque, N.M., and Huntsville, Ala., locations.
Shaping the Future

Space Agenda 2021: Informing the Future of Space

Space exploration, development, and security are increasingly important elements of national policy and strategy. Aerospace has created a series of discussion papers—Space Agenda 2021—on topics already at the forefront, or likely to emerge in the next few years.

The Value of Space

Space-based services have become fundamental to daily life, but there's more going on in space than you may realize. How does our modern world rely on space?

The Space Policy Show

While COVID-19 disrupted many planned in-person events this year, the demand for thoughtful analysis and discussion of the latest issues and ideas in space was as high as ever. Aerospace's Center for Space Policy and Strategy launched The Space Policy Show to meet that need.

 

Mission Success

Launch in the New Normal: Space Force's GPS III-3

The GPS III-3 launch was the first National Security Space Launch mission to include recovery of the first-stage booster. Aerospace's team again relied on our technical excellence and dedication to mission success in support of the effort.

NASA/SpaceX's Demo-2: A New Era for Human Spaceflight

Aerospace provides crucial support to the Commercial Crew Program, with embedded roles on the NASA team able to leverage the FFRDC's depth of knowledge and technical expertise.

Atlas V USSF-7 Launch: The (Space) Force Is with You

In support of the U.S. Space Force's second launch, Aerospace continued to enhance the remote capabilities that were demonstrated during the successful AEHF-6 launch.

 

Outpacing the Threat

Aerospace Breaks Ground for New State-of-the-Art Colorado Springs Facility

Aerospace's second state-of-the-art research and development facility in Colorado Springs, Colo., will be the focal point for delivering technical expertise across the space enterprise to outpace threats to national security.

CubeSats Get Close: Proximity Operation with Interesting Implications

One of Aerospace's CubeSats photographed its twin satellite from 22 meters away in a demonstration of the type of technology that could enable inspection and servicing missions.

Space Warfighting in the Modern Era

The Space Warfighter Initiative (SWI) leverages Aerospace's decades of deep institutional technical expertise in developing a capability to analytically evaluate the tactical, operational and strategic levels of warfighting.

 

Innovation

New xLab Facility Enhances Aerospace's Prototyping Capabilities

The newly unveiled xLab facility will equip our technical experts to build innovative prototypes and instruments to advance space technology.

Innovating for Continuous Production Agility

Aerospace is developing the innovative technologies, standards, and processes to help realize a Continuous Production Agility strategy that emphasizes for speed, adaptability, and resilience.

New Electric Propulsion Chamber Explores the Future of Space Travel

Aerospace's world-class electric propulsion testing facility will test the newer, high-powered thrusters needed for future space exploration.
The Brightest Minds of Today
Solving the nation's hardest problems means recruiting and retaining the brightest minds available.

Our collective expertise spans fields from math, chemistry, and physics to mechanical, aeronautical, and electrical engineering, drawn from private industry, academia, and government talent pools. More than two-thirds of Aerospace's technical staff holds an advanced degree, with 780 holding a Ph.D. in their respective fields.

Together, Aerospace's technical staff have an average of 26 years of technical experience, with many finding a long-term home with the company to grow their careers and maximize their impact.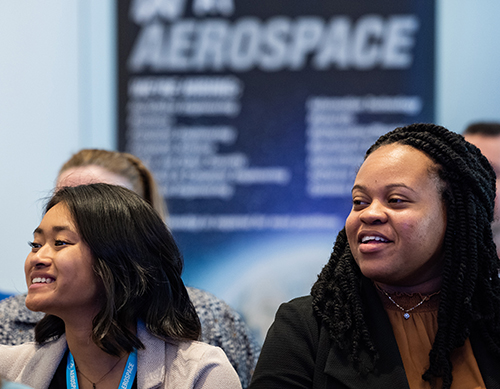 Aerospace's Commitment to Diversity, Equity, and Inclusion
Aerospace's Office of Diversity, Equity, and Inclusion (DEI) and Executive Diversity Council established a new strategic framework to augment and reinforce our efforts in creating long-lasting impact for a diverse and inclusive workplace where our people are empowered to bring their best selves to collaborate and create the best solutions for our customers.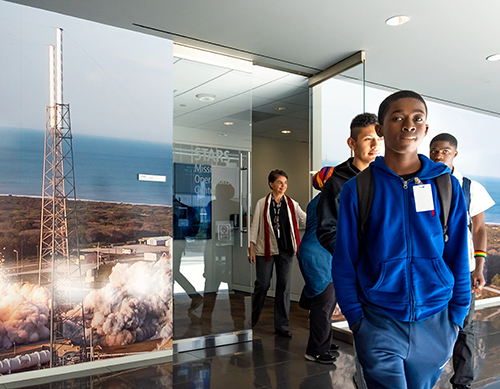 Effecting Change Through the Aerospace Committee for Equality
The Aerospace Committee for Equality (ACE) is leading our holistic effort that spans across the enterprise to address six critical Focus Areas: Recruitment, Representation, Retention, Education and Training, K-12 STEM Outreach and Community Outreach.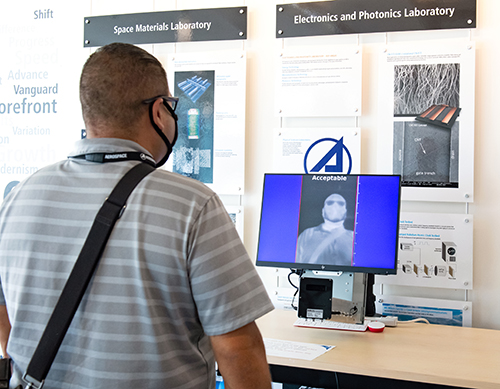 Keeping Our People Safe Against COVID-19
Commitment to our people is a pillar of Aerospace's values. During the COVID-19 pandemic, our leaders took critical steps to prioritize the safety and wellbeing of our employees as we continued to deliver on the mission.
About The Aerospace Corporation
Space News Happens Fast
Don't miss out on the latest from Aerospace