Fifty years after man first walked on the moon, the space domain continues to evolve, and the pace of change is accelerating faster than ever. 
The emergence of new threats, the development of game-changing technologies and increased interest in accessing space by foreign governments and private entities across the globe are beginning to challenge the United States' dominance in new ways. At the same time, opportunities are emerging to transform the nation's space systems architecture and create a more resilient, more capable national security space enterprise capable of shaping the future of the domain.
In response to these dynamic times, The Aerospace Corporation undertook Project Thor, whose recommendations were presented to senior Department of Defense leaders.
One key enabler of this new architecture envisioned by Project Thor is the proposed shift to a Continuous Production Agility (CPA) procurement and launch strategy, which seeks to realign acquisition for speed, adaptability and resilience.
A new paper from Aerospace's Center for Space Policy and Strategy, Continuous Production Agility: Adapting at the Speed of Relevance, further explores the potential of this transformation, the environment it's taking place in, and the enablers needed to make this concept a reality.
Leveraging increased production and launch tempo rates, a modular open systems architecture, and enhanced competition, CPA proposes to deliver entire constellations on a much faster basis and with more frequent new technology insertion than the low-volume, high-reliability model that has been traditionally relied on.
"Achieving Continuous Production Agility will require new acquisition strategies and a culture shift to more agile solutions built on regular production cadence and modular architecture principles," said Dr. Malina Hills, Senior Vice President of Aerospace's Space Systems Group. "Realizing this transition will create a more resilient space architecture and enable the space enterprise to outpace emerging threats by fielding new capabilities more quickly."
Continuous Production Agility was the subject of a recent episode of The Space Policy Show presented by the Center for Space Policy and Strategy.
In addition to providing critical insights and thought leadership through CSPS, Aerospace is engaged in an enterprise-wide effort to nurture the technologies, standards and processes to realize a Continuous Production Agility strategy.
Aerospace's work is already yielding real-world results as Continuous Production Agility concepts are incorporated into governmental space acquisition programs.
Here's a look at some of our most promising efforts and how they help enable the transition to CPA.
Blazing a Faster Trail to Space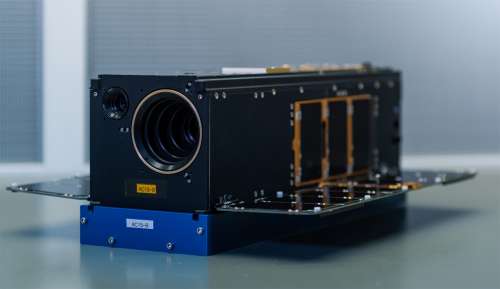 Continuous Production Agility relies on increasing the pace of satellite manufacturing, driving a shift from batch manufacturing to a steady flow production. Realizing this shift can lead to improved production efficiencies, increased opportunities for technology insertion and greater resiliency for space systems.
Aerospace put this need for speed to the test, building and delivering a pair of CubeSats for launch in just 18 months, with a successful on-orbit deployment in early 2020. The team relied heavily on commercial-off-the-shelf parts to meet their target and developed a collaborative, enterprise-approach in pursuit of maximum efficiency and reduced complexity.
Known as the Aerospace Rogue Alpha/Beta CubeSats, these spacecrafts serve as pathfinders for future study of rapid reconstitution to quickly restore compromised on-orbit capabilities. 
Building the Modular Future of Space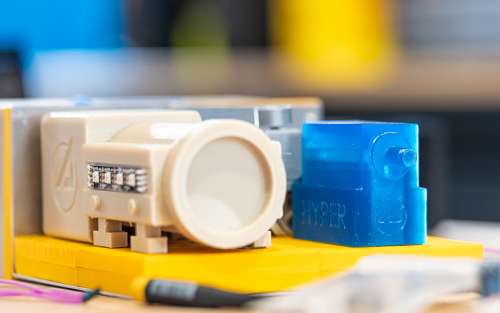 Shifting to modular, open standards for spacecraft can allow for greater flexibility and agility, while allowing for increasing rates of production needed to meet the needs of a "launch-on-schedule" paradigm. It could also enable new satellite design and procurement processes, allowing for the acquisition of modular elements, rather than buying whole satellites or systems. A modular architecture "future proofs" the satellite – allowing it to be extendable and still relevant despite technological advances and changing threats.
A team at Aerospace's iLab is exploring the technologies needed to seed this modular revolution, focusing initial efforts on ways to quickly marry payloads and spacecraft buses using a modular interface.
Their designs include Handle, a physical adapter that would bridge payloads and bus to provide the needed power, command, data and timing capabilities. A related effort, Bender, is a low-power Ethernet network that would allow various CubeSat subsystems to connect to a single, reliable network for transferring data, rather than the ad-hoc interfaces used today.
Gazing at the Skies with Monocle
The push for modularity doesn't just apply to space vehicles. In order to meet the demand of future space architectures, the ground systems that support them will also need to evolve.
Aerospace's patented Monocle prototype represents a new approach to ground-based sensors. Utilizing a unique pointing and tracking system, the telescope's optics are fully-enclosed within a dome, protecting them from outdoor elements, providing thermal stability and enabling the device to be remotely-operated in a variety of environments.
Monocle's true promise lies in its potential for mass production, offering a cost-effective, scalable concept for a variety of uses, from space situational awareness to communications. 
Revolutionizing Launch Access for Small Satellites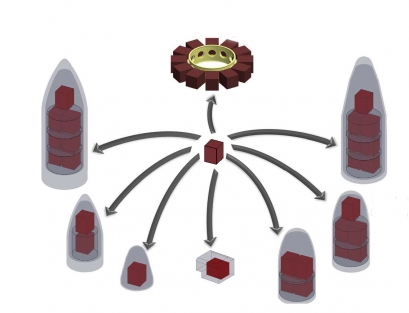 The increasing pace of launch needed to support a Continuous Production Agility model heightens the importance of maximizing the efficiency of each launch vehicle and the number of satellites it carries.
The Launch Unit (Launch-U) is a consensus-based standard developed by a consortium of industry, academia and government partners, including Aerospace, that addresses the physical properties of midsized smallsats as well as their mechanical and electrical interfaces with the launch vehicle.
A standardized unit like Launch-U could allow for better use of cargo space on a launch vehicle and increased flexibility, allowing satellites to be slotted into predefined launch configurations, often on accelerated timelines.