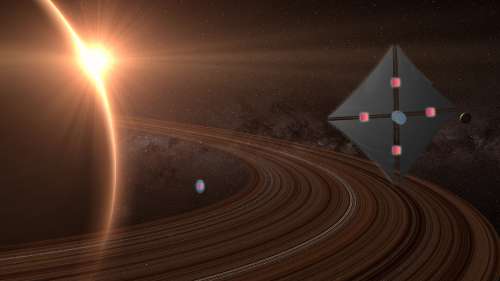 The APPLE concept is a new type of spacecraft power system that will be much lighter—and thus faster and cheaper—than existing spacecraft power systems, thanks to the combination of a radioisotope source and energy storage in a single, scalable, flat "power tile" that can be attached to solar sails. APPLE's use of a structural battery and recycled waste heat mean it is also long-lived and rechargeable.
"The real value of APPLE is that it enables fast transit," said E. Nemanick, a research scientist in Aerospace's Energy Technology Department. "The ultimate achievement would be to build a spacecraft that can rapidly deliver a science payload to the deepest parts of the solar system in the order of years, not decades."
During the next nine months, the team will build a power system and radiation models that assess the power needs of deep space missions like a Kuiper belt object flyby and a mission to the solar gravity focal point. The radiation testing will be completed by the Oak Ridge National Laboratory (ORNL) while the Aerospace team leads system and mission modeling.
"This is an exciting approach to reimagining the architecture of batteries to enable greater functionality and survivability in the harsh conditions of space," added ORNL's Gabriel Veith, who is partnering with the Aerospace team on this project.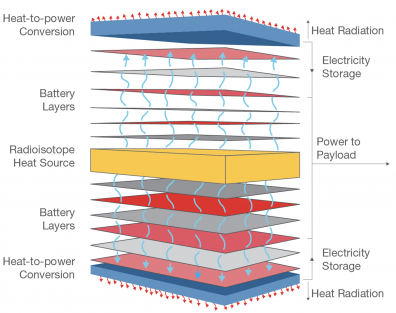 Aerospace teams have previously been awarded Phases I and II NIAC grants for the Brane Craft concept and Phases I, II, and III NIAC grants for the Solar Gravity Lens concept. NIAC targets transformational ideas for future NASA missions to drive radically improved space technology.
Leading the APPLE project is Nemanick and his Aerospace teammates Henry Helvajian and Kristine Ferrone, in conjunction with Veith.
This year, NASA's Space Technology Mission Directorate selected 16 NIAC Phase I proposals, each worth up to $125,000 in NASA grant funding. After the nine-month period of performance, Phase I recipients may apply for Phase II awards.
About The Aerospace Corporation
The Aerospace Corporation is a national nonprofit corporation that operates a federally funded research and development center and has more than 4,600 employees. With major locations in El Segundo, California; Albuquerque, New Mexico; Colorado Springs, Colorado; and the Washington, D.C. region, Aerospace addresses complex problems across the space enterprise and other areas of national and international significance through agility, innovation, and objective technical leadership. For more information, visit www.aerospace.org. Follow us on X: @AerospaceCorp.
Media Inquiries
Media Relations
Corporate Communications and Public Affairs Division