The first human spaceflight to launch from American soil in nearly a decade is set to take place this week. NASA astronauts Robert Behnken and Douglas Hurley will lift off aboard SpaceX's Crew Dragon spacecraft atop a Falcon 9 rocket from the Kennedy Space Center in Florida. The crewed flight will then dock with the International Space Station for at least one month before returning back to Earth.
The historic Demo-2 mission marks the beginning of a new era for the U.S. space enterprise. As part of NASA's Commercial Crew Program (CCP), the Demo-2 flight test is the final major milestone for SpaceX before operational crewed flights can begin, starting with the Crew-1 mission anticipated for later this year. The program is also a significant departure from how NASA has traditionally operated its missions, utilizing a public-private partnership model rather than the conventional government-owned strategy.
The Aerospace Corporation provides crucial support to the Commercial Crew Program, with embedded roles on the NASA team able to leverage the FFRDC's depth of knowledge and technical expertise.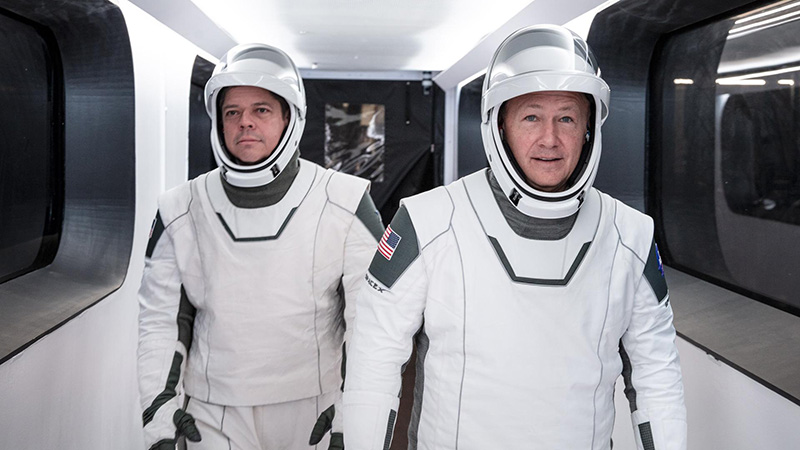 Lift Off for U.S. Human Spaceflight
While U.S. launch activity has increased exponentially in recent years, most notably due to the entrance of new commercial entities like SpaceX, these missions have largely been to deliver cargo and payload to orbit. Crewed launches introduce additional technical complexities that must be accounted for in the planning, and add unquantifiable stakes to ensuring mission success.
"At the heart of it is the fact that you're responsible for two people's lives who have families," said Amy Misakonis, Senior Project Engineer at Aerospace and safety lead for the Crew-1 mission. "So, the technical systems inside the vehicle need to work. The abort system, environmental control, life support, fire suppression, parachutes – these things are even more important when you have people on the spacecraft. You need to have all those things work successfully each and every time so that the crew gets back home to their families safely."
The goal of the Demo-2 mission is to assess and validate the Crew Dragon's transportation system, which includes the launch pad, rocket, spacecraft and operational capabilities. The successful completion of the DM-2 mission would then open the path for the NASA's first operational manned launch with Crew-1, which will launch six astronauts to the ISS for a standard six-month rotation. The Crew-1 features a maximum duration of up to 210 days, nearly twice that of DM-2's 119 days.
"What we're looking to see for Demo-2 is the performance of the rocket, spacecraft, and making sure everything is nominal to what we expected within all of our models so that we can move forward with a post certification mission," Misakonis said. "We do have certification activities that we need to complete here on the ground before we get to Crew 1, but really for this demo mission, we just want to make sure everything is working like we expected it to."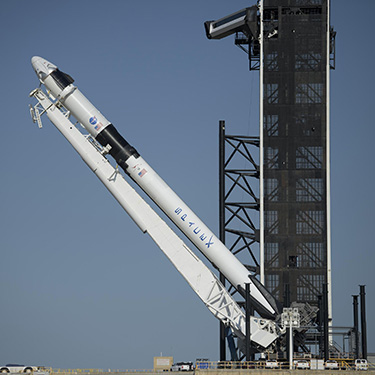 A New Era for Spaceflight
NASA's decision to leverage public-private partnerships through commercial contracts has also shifted the paradigm for the broader space sector. As advancements in technological innovation have helped to reduce costs and lower the barriers to entry to access space, it has also provided more options for the space agency. For CCP, NASA has partnered with SpaceX and Boeing, both operating under fixed-price contracts with milestones that need to be met.
"Under the Commercial Crew model, we have a standard set of requirements where everyone works to the same requirements, but both providers select their own approach," said Mike Graybill, Senior Project Engineer at Aerospace. "So, working with SpaceX and working with Boeing is very different on the NASA side. It's important for us to understand how our providers intend to meet those requirements, and then work to perform the appropriate government role to interface and intercede in that role given how the proprietors have chosen to meet the requirements."
Aerospace is providing support to CCP in a variety of functions, including work on safety and mission success support (S&MA), flight readiness verification, certification lead on requirements, and hardware surveillance to ensure quality through the manufacturing process. Graybill led Aerospace's early efforts in the space assessment process to identify the high-risk areas for the program's providers.
"We don't treat them identically because of the differences between their respective companies and their approaches to getting the job done," said Jon Cowart, Systems Director at Aerospace's Human Exploration and Space Flight Division for Kennedy Space Center. "We don't have to treat them equally, but we do have to treat them equally fairly. I think you've seen almost the two extremes in the model in how corporations can approach doing this business. It's been good for NASA to see both ways and adapt to both. I like both partners because they pull us in a little bit of different directions, and we have opened up our thinking in order to work with both of them."
By leveraging commercial partnerships and existing launch vehicles, NASA is better positioned to avoid cost overruns and reduce development timelines while simultaneously able to access a wider breadth of innovation for its programs. In essence, NASA is able to rent rides through its commercial partners as their needs dictate, rather than having to fund, build and manage the entire process on its own.
"Commercial Crew is entirely focused on the mission of getting our crew safely to the ISS and back" Graybill said. "But when you look at the national space policy and the new ambitious goals that NASA has, whether you're talking about Lunar Surface, Lunar Gateway, or reaching out beyond to Mars, having companies that are certified to get crew safely to LEO and bring them back to the surface of the Earth, if you're the mission planner planning how we're going to conduct a lunar campaign or a Mars campaign, those capabilities are capabilities you're going to want to have if you're trying to move fast."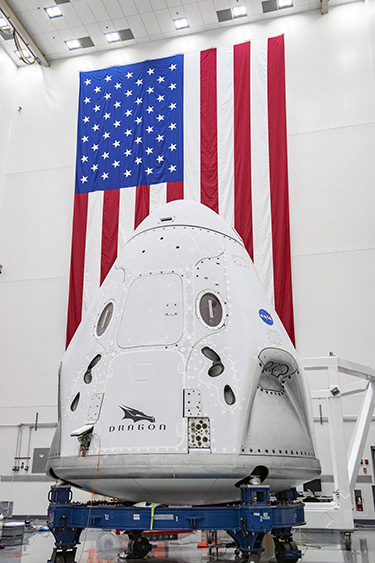 Implications for the Future of Space
The Space Shuttle's final Atlantis mission in July 2011 was the last time the U.S. launched humans into space. Since that time, U.S. space program have had to rely on foreign space agencies for human spaceflight, primarily the Russian Soyuz.
"CCP being successful will really be a gamechanger for the whole industry," Misakonis said. "Not only is it a huge cost savings if we can launch from our own soil, but we're able to launch when we need to and how we need to in order to keep the Space Station operating. Not only that, this could revolutionize the whole industry. It will be the first time that we're launching people on a non-government entity. I think it's really going to open up a whole new industry like we're seeing right now."
The ability to cost-effectively launch human spaceflight from U.S. soil also has major implications for the broader sector. More viable options for human access to orbit could accelerate the democratization of space, opening new paths for innovation for both government space agencies and private companies.
 "This could potentially be huge. The previous and, to an extent, existing models we have are prohibitively expensive to get up to low Earth orbit," Cowart said. "Primarily, it's been in the domain of nations being able to afford to do such things. Now with the price coming down, and us nurturing this young industry the same way the U.S. government nurtured the early railroad industry and early aviation industry, this could be the jumping off point where things can finally take off."
Aerospace systems director Jon Cowart discusses the importance of today's crewed SpaceX launch from American soil. Clip courtesy of CNN.
UPDATE: Due to unfavorable weather conditions, the NASA/SpaceX Demo-2 launch was been scrubbed. The next launch opportunity is Saturday, May 30 at 3:22 p.m. ET (12:22 p.m. PT). Watch the launch below via NASA's Livestream Channel.