After a successful prelude with the Demo-2 mission in May, NASA and its ensemble of partners will officially raise the curtain on the Commercial Crew Program with the launch of Crew-1 this week.  
The program's inaugural crewed operational mission will send four astronauts to the International Space Station via SpaceX's Crew Dragon Capsule and Falcon 9 launch vehicle. Their journey could be the first step in opening space to countless others. 
During the Crew-1 mission, NASA astronauts Michael Hopkins, Victor Glover, Shannon Walker and Soichi Noguchi of the Japan Aerospace Exploration Agency will live and work aboard the station until spring 2021, conducting scientific and maintenance activities. 
Broadening the Spectrum
As much a business model breakthrough as a technical marvel, CCP will utilize private companies to ferry crews to and from the ISS, putting the U.S. on a path toward safe, reliable and cost-effective human space transportation.
Continuous work on the ISS over two decades has advanced scientific knowledge and demonstrated technologies essential to reaching the moon and beyond. CCP could accelerate this development, spurring economic growth in space services and opening low Earth orbit to more companies, nations and scientific endeavors. 
"The primary purpose is to find a more cost efficient, yet safe way to get our astronauts up to the ISS," said Jon Cowart, Systems Director at Aerospace's Human Exploration and Space Flight Division for Kennedy Space Center. "Once NASA has certified that capability for their use, it frees up SpaceX to offer that same service on the open market."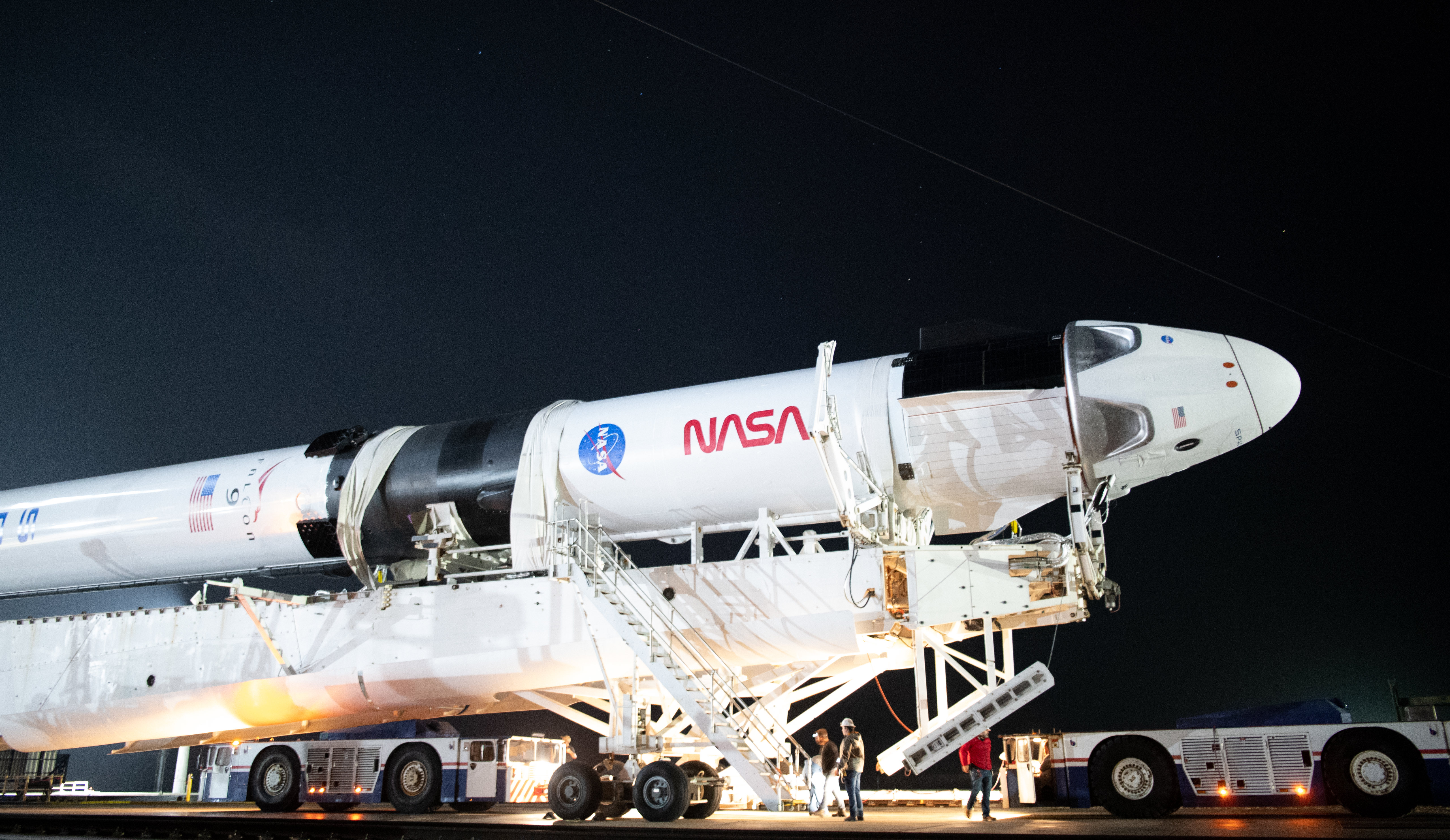 Though SpaceX and Boeing are the program's main launch providers, commercial contracting will enable NASA to seed other companies, such as Blue Origin and Sierra Nevada Corporation. This competitive model drives down cost, while nurturing novel approaches to the challenges of spaceflight. 
"Having different minds from all of these organizations really broadens the spectrum of people that are going to be focusing on these problems," said Kelly Donnenwirth, a Senior Member of Technical Staff at Aerospace. "Competition drives a lot of new ways of doing things that we might not have thought of."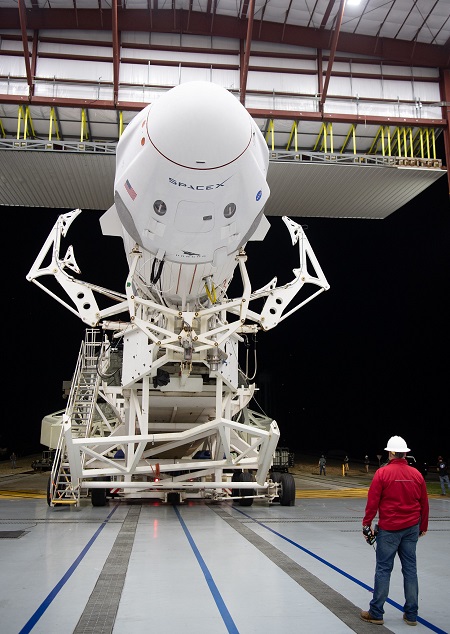 Less Disposable, More Sustainable
Key to the program's economic viability will be the reuse of spacecraft. Saturday's launch will utilize a vehicle fresh out of the factory, but both the first stage and capsule will be recovered for reuse in a future mission.  
Though the Space Shuttle program operated with a partially reusable launch system, Cowart believes CCP could go all the way. 
"This is radically different than the Shuttle. The fact that SpaceX has landed boosters successfully 60 times and reused 30 times is a good start to a database to show if this thing is working. Once they figured out how to land safely that very first time, they've only had one instance of a technical issue that prevented a successful landing," he said. "Originally, when SpaceX bid on the contract, there was no reuse on the rocket and no reuse on the Dragon capsule. Now it's official.  Now SpaceX and NASA are looking into complete reuse of the capsule and booster." 
Beyond the economic benefit, reuse could bring a new level of sustainability to space activity. 
"It makes spaceflight more affordable in the sense that it's less disposable and that's something people are very conscious of," Donnenwirth said. "Because of the state of the world right now, if we can minimize the impact from an environmental perspective, that's something everyone is on board with." 
Trusted Partner Through the Mission Life Cycle
With four lives and an international partnership at stake for Crew-1, NASA must balance the speed and innovation of its commercial collaborators with a prudent approach to risk management. Aerospace supports the full program life cycle from the assembly line to the splashdown of the capsule, providing independent technical analysis to identify and mitigate issues before they arise. 
"From cradle to reuse, we're looking at different points in the process where there might be potential risk," said Ivor Bulathsinghala, a Senior Project Leader at Aerospace. "We're on the factory floor auditing various points in the build process from the subcomponent level, such as looking at the way a valve gets built up, to larger components like an engine, where these valves get installed and integrated into booster."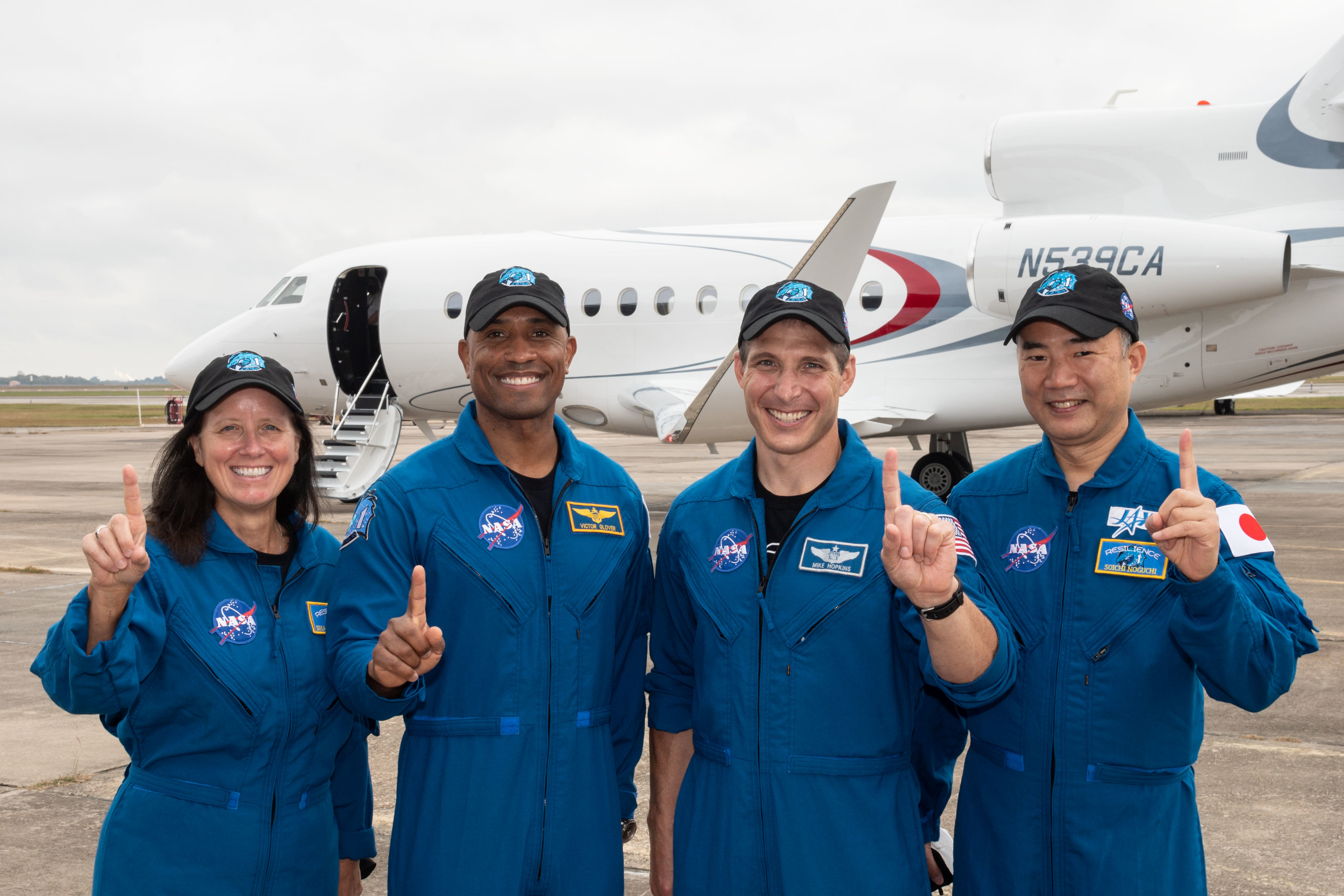 As CCP evolves, Aerospace will continue to support NASA and its partners, drawing from six decades of work with military, civil and commercial space programs. 
"We're able to leverage knowledge, independent assessments and other experience to help multiple government customers," said Aerospace Senior Project Leader Amy Misakonis. "We're like a wheel. We get insight from different spokes that we're able to leverage with organizations across the space enterprise." 
While SpaceX was first to the launchpad, CCP will rely on the co-innovation of multiple commercial providers. Aerospace is uniquely positioned to provide value as a convener and catalyst of this process. 
"We support Boeing the same way we support SpaceX. They're just on a different timeframe," Misakonis said. "More and more, our team is getting involved with the other players as well. We're out there to help everyone be successful because when they succeed, NASA succeeds." 
A New Realm of Prospects
While improving access to the ISS represents a milestone in its own right, CCP lays the foundation for human spaceflight activity beyond low Earth orbit. Leveraging private industry for core spaceflight capabilities could accelerate NASA's progress in reaching the moon and Mars. 
"If you're going to run a marathon, you're not going to just run 26 miles on race day. You have to work your way up," Donnenwirth said. "If we can perfect the process of getting to low Earth orbit, we have more time to focus on what we need to do to get beyond the ISS. There are different trajectories and distances that will require more thought because they're not things that we currently deal with. Having commercial partners come in and handle the baseline capabilities will help us get there faster." 
CCP could be the first step toward making space travel truly ubiquitous – a game-changing development for humanity. Saturday's launch represents a critical inflection point on this journey, opening up a new realm of prospects, both known and yet-to-be-conceived. 
Cowart anticipates that increased frequency and capacity of human spaceflight will soon allow for scientists to visit the ISS and conduct extended experimentation in microgravity.  Though astronauts carry out numerous studies aboard the station on behalf of Earth-bound investigators, Cowart says that the ability for scientists to modify their experiments in real-time will unlock new levels of discovery. Further in the future, CCP could bring once-outlandish ideas, from space tourism to lunar colonies, closer to reality. Donnenwirth suggests that, with the help of rockets, intercontinental travel could one day be reduced to a few hours.   
Such concepts would only become viable if space travel became as seamless as air travel, but Donnenwirth isn't ruling anything out. 
"It's like asking the Wright brothers what flight will look like," she said. "We can't fathom how much it will change. The possibilities are endless and it's up to our imagination where we want to take it."