As the saying goes, "Necessity is the mother of invention". Given that employers nationwide have scrambled to adopt social-distancing practices that health officials say will help slow the spread of COVID-19, necessity is also paving the way for innovation. As an industry leader in the space domain, The Aerospace Corporation is spearheading the resilient and agile adaptation of new workplace and staffing norms to address this new challenge.
While telework lends itself acceptably to most corporate functions in our industry, Aerospace's world-class facilities and labs have traditionally been utilized to their fullest by on-site staff, making the implementation of a remote workforce especially problematic. Telework seemed equally incompatible with other typically hands-on programs such as internships, leading other space industry players to cancel theirs outright. Could Aerospace's University Relations and Recruiting (UR&R) internship program continue to exist, when access to everything from lab facilities to networking opportunities was so thoroughly mitigated? The answer is a resounding "Yes", with some thoughtful adjustments.
"Aerospace's programs serve to partner, build and strengthen relationships with universities to not only attract diverse top talent, but also to leverage the relationships that our engineers and leaders have at various universities. For the students, the purpose of an internship program is to apply what they are learning in school and gain meaningful work experience, network and learn about a company. How do we keep these recipes and do it virtually?" said Angela Couture, Director of Aerospace's UR&R.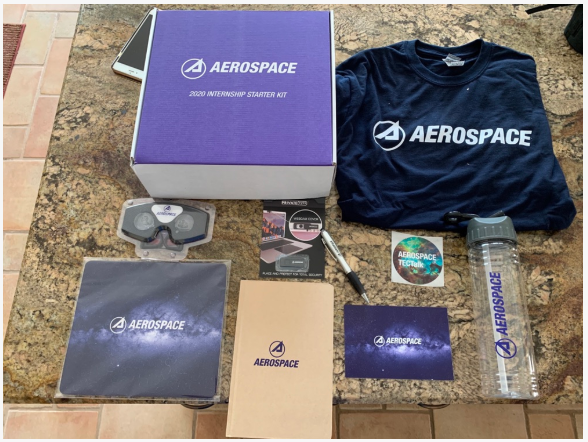 Indeed, the "new normal" imposed by COVID-19 led to a complete re-evaluation of the program to determine if it could co-exist with disease prevention efforts. Several options were considered, such as canceling this summer's program, or scaling it back drastically, or limiting the program to graduate students. To further complicate matters, internship applicants had already been accepted when the emergency pandemic response was declared.
"In response to the pandemic, we quickly assembled a task force to immediately take action and change existing policies to ensure that the program could continue. These actions included delaying start dates from May to June, dedicating a GroupMe account for COVID-19 updates and coordinating with the Aerospace COVID-19 response team to ensure that the program and its interns were compliant with every protective measure in place," Couture said.
While some internship assignments could be accommodated by way of virtual presences in labs and facilities, managers were tasked with assessing and adjusting individual assignments, or providing interns with alternate assignments that were a better fit for remote participation.
Furthermore, the company expanded upon its virtual programs to ensure that interns could maximize their experience, education and sense of community during their time with Aerospace despite having to work remotely. Virtual programs like new hire orientation, "TECTalk" presentations hosted by Aerospace executives, virtual "brown bag" seminars and community outreach activities have been instrumental in helping to enrich the telework internship experience. Office hours were also expanded to ensure that interns can promptly connect with personnel for guidance throughout their internship.
For National Intern Day, several activities have been planned throughout the day for interns to engage in and participate, including virtual lab tours, open forums with technical staff, and fun trivia games.
So far, the response on the part of interns has been resoundingly positive.
Having no blueprint or previous model to follow, Aerospace's UR&R team said it felt the need to act with urgency and speed, maintaining communication with incoming interns, colleagues and stakeholders to make decisions quickly and effectively. It speaks to Aerospace's adaptability and resilience.
In the midst of a global pandemic, Aerospace remains committed to meeting the needs of an ever-changing industry by fostering the next generation of engineers and thought leaders, while remaining dedicated to its own strategic imperatives. Although the shift to remote work has been challenging, it is also paving the way for dynamic and informed responses to new pandemic norms.
"People are shaping the future here," Couture said. "The interns we're bringing in out of school are a brain trust that is helping to shape the future in a broader sense. Our interns are learning the newest and greatest technologies and their diversity of thought will help Aerospace meet the world's future challenges."