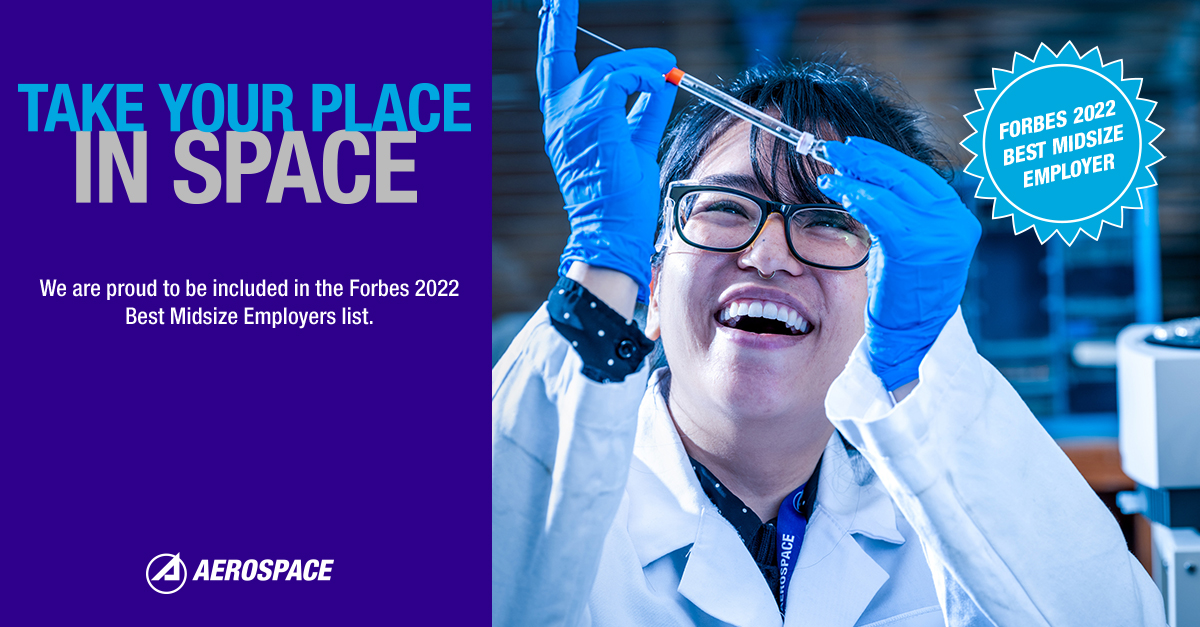 This is the second year in a row Aerospace has been recognized. Forbes also showcased Aerospace in 2019 as one of the Best Employers for Diversity.
"We are honored to receive this recognition, which speaks to the extraordinary workplace our employees have helped shape," said Heather Laychak, Aerospace vice president and chief people officer. "We're proud to be an organization that champions innovation and offers mission-driven career opportunities to make a difference for our nation during this exciting time in space."
The Forbes America's Best Midsize Employers list was compiled through an independent survey among 50,000 Americans who worked for businesses with at least 1,000 employees. Participants were asked to rate their willingness to recommend their own employers and to nominate other organizations. The rankings were based on the number of recommendations a company received.
About The Aerospace Corporation
The Aerospace Corporation is a national nonprofit corporation that operates a federally funded research and development center and has more than 4,600 employees. With major locations in El Segundo, California; Albuquerque, New Mexico; Colorado Springs, Colorado; and the Washington, D.C. region, Aerospace addresses complex problems across the space enterprise and other areas of national and international significance through agility, innovation, and objective technical leadership. For more information, visit www.aerospace.org. Follow us on Twitter: @AerospaceCorp.
Media Inquiries
Media Relations
Corporate Communications and Public Affairs Division