The sounds of shouts, giggles, and laughter spiraled through the air on April 26, as a swarm of energetic schoolkids descended on Aerospace. It was the annual Take Our Kids to Work Day, during which dedicated Aerospace employees and volunteers ensured the day was chock full of fun, games, and STEM. 
West Coast Take Our Kids to Work Day
In El Segundo, CA, the children visited the virtual reality lab, the drone facility, the STARS Mission Control Center, and the ever-popular cryogenics lab, where they discovered how hungry scientists make ice cream. They also learned about space junk and orbital modeling, tried on space gloves, made slime, launched mini-rockets, and controlled robot cars.  
East Coast Take Our Kids to Work Day
In Crystal City, VA, the kids enjoyed the egg drop competition, which involved devising ways to drop eggs from the rooftop without breaking them. They also built Lego™ rockets, examined a CubeSat, and learned about life as an astronaut.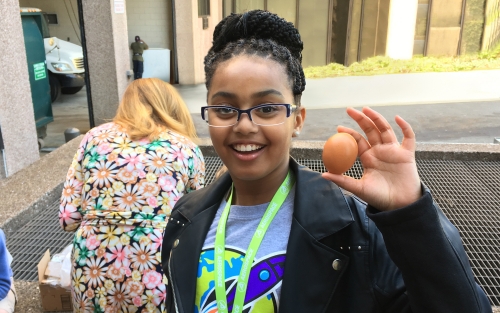 In Chantilly, VA, kids built Lego models of the space shuttle as well as a simple model circuit. They also constructed rockets and launched them at a target across the auditorium. 
This was the largest-ever Take Our Kids to Work Day for Aerospace, with more than 170 children participating in El Segundo, 48 in Chantilly, and 10 in Crystal City, not to mention an army of volunteers and chaperones.