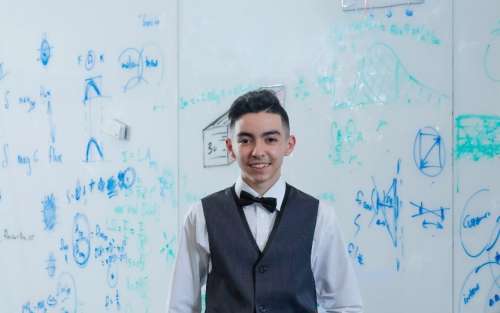 This year's recipient of the Dr. Wanda M. Austin STEM Scholarship, the company's top scholarship, was awarded to Antonio Garcia, a graduate of Lennox Mathematics, Science and Technology Academy in Lennox, Calif. This award includes a paid summer internship, mentoring, and a grant for up to $10,000 a year, renewable for four years. Garcia will be attending Loyola Marymount University in the fall to pursue a bachelor's degree in mechanical or civil engineering.
"We're excited to support and mentor Antonio and this exceptional group of students from across the country as they continue their educational journeys," said Steve Isakowitz, Aerospace president and CEO. "They represent the vast talent and potential inherent in this next generation of scientists and engineers, and the diverse perspectives they bring will help advance our nation's excellence in STEM fields, including in space."
Increasing diversity in science, technology, engineering, and mathematics (STEM) is at the core of Aerospace's outreach initiatives. The Dr. Wanda M. Austin STEM Scholarship program was established in 2015 to increase STEM opportunities for high-achieving, underrepresented students. With the launch of the Future STEM Leaders program, Aerospace is building on this success by expanding opportunities for first-generation, college-bound students in areas where Aerospace employees live and work.
Each recipient of the Future STEM Leaders Scholarship receives a one-time $5,000 scholarship upon acceptance into a four-year college or university. The students are also matched with Aerospace employees who act as academic mentors and coaches from college admission to entry into the working world. All recipients demonstrate a record of leadership and participation in community-service activities as well as an interest in pursuing a four-year college or university degree in physical sciences, computer sciences, engineering, or mathematics. Here are the new recipients:

Nancy Dofour is an upcoming senior at T.C. Williams High School in Alexandria, Va. She is also currently studying at Northern Virginia Community College (NOVA) and George Washington University. She plans to obtain her undergraduate degree in biology and apply to medical school.
Jaylen Maull is a student at Jemison High School in Huntsville, Ala. While he works hard at pursuing his interests in engineering, Maull is very interested in the arts as well. He combines these two passions through audio engineering and creating his own music.
Patrick Baca is a senior at the top of his class at College and Career High School in Albuquerque, N.M. Even though still in high school, he has already earned two associate degrees—in liberal arts and sociology—and is on track to earn additional associate's degrees in criminology and biology by August 2021.
Ana Rojas is a student athlete at Doherty High School in Colorado Springs, Colo. Along with excelling in engineering and STEM classes, Rojas competes at the national level in swimming. She has accepted an athletic scholarship to swim and continue her academics at Purdue University.
Both the Dr. Wanda M. Austin STEM Scholarship and Future STEM Leaders Scholarship are funded through the Aerospace STEM Endowment Fund, which is sustained solely through employee and trustee donations, charitable organizations, and estate gifts.
About the Dr. Wanda M. Austin STEM Scholarship
The Dr. Wanda M. Austin STEM Scholarship is an invitation-only scholarship, where recipients receive a paid internship at Aerospace and a scholarship of up to $10,000 per year, renewable for up to four years. Scholarship recipients are required to pursue undergraduate studies in a STEM field at a four-year college and maintain a 3.0 grade point average. The Dr. Wanda M. Austin STEM Scholarship was named after Aerospace's former CEO and president for her dedication and support of STEM education.
About The Aerospace Corporation
The Aerospace Corporation is a national nonprofit corporation that operates a federally funded research and development center and has more than 4,600 employees. With major locations in El Segundo, California; Albuquerque, New Mexico; Colorado Springs, Colorado; and the Washington, D.C. region, Aerospace addresses complex problems across the space enterprise and other areas of national and international significance through agility, innovation, and objective technical leadership. For more information, visit www.aerospace.org. Follow us on X: @AerospaceCorp.
Media Inquiries
Media Relations
Corporate Communications and Public Affairs Division