Aerospace believes fostering diversity in all forms is key to enabling collaboration and innovation to truly shine. To ensure the nation's space industry is positioned to lead and succeed, Aerospace also recognizes that creating meaningful opportunities for a more diverse, equitable and inclusive workforce requires a collaborative effort across the industry.
This year, at the 37th Space Symposium in Colorado Springs, Colo., Aerospace President and CEO Steve Isakowitz announced the Space Workforce 2030 (SWF2030) pledge, the first-of-its-kind consortium of more than 30 leading space companies, all committed to working collaboratively to advance diversity across the industry.
"Innovation best happens when you get different people, with different perspectives and different backgrounds, coming together," Isakowitz said. "We are an industry that depends on innovation, and we need to go beyond like-minded individuals to really expand that."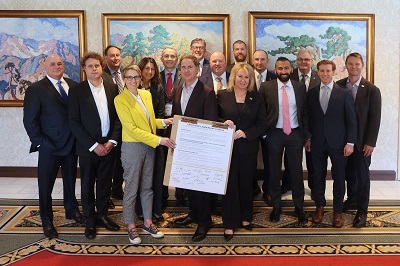 By signing the SWF2030 pledge, each company is making a long-term commitment to increasing the number of women and employees from underrepresented groups in the technical workforce and in senior leadership positions. The program also seeks to increase the percentage of underrepresented groups studying and receiving degrees in aerospace engineering and seeks to sponsor K–12 programs that will collectively reach more than five million underrepresented students each year.
Across the industry, companies of all sizes are joining the pledge to make the aerospace industry a more inclusive environment. As the interest in space continues to grow, the industry must continue to broaden the pool of technical talent and create opportunities for the brightest minds from all backgrounds to engage and participate.
In August, Isakowitz and Aerospace Trustee Dr. Daniel Hastings presented the SWF2030 initiative at the Higher Education Diversity Media Conference at Howard University. Isakowitz and Hastings shared the vision and current progress of SWF2030, focusing on the need to increase diversity among aerospace engineering graduates.
For decades, Aerospace has been committed to fostering diversity, equity and inclusion (DEI) throughout its workforce, ensuring our people are empowered to create novel solutions. In summer of 2020, Aerospace deepened this commitment by establishing The Aerospace Committee for Equality (ACE) to be at the forefront of this ongoing mission. ACE works to assess, recommend, and execute the corporation's DEI actions. The committee focuses on seven areas: recruitment, retention, representation, education and training, K–12 Science Technology Engineering & Math, community outreach, and best practices.
Fostering diversity creates a better work environment for everyone; the best science and engineering happens in an environment where all voices are heard and respected. By prioritizing these efforts and DEI, we ensure our diverse teams can create novel solutions for addressing the hardest problems in space.