The future of STEM participated in the 45th annual Robert H. Herndon Memorial Science Competition. Brought back this year, the experiment contest challenged student teams to demonstrate their innovation across a variety of science disciplines — from chemistry and physics to robotics and aeronautics. This year's science essay competition theme aligned to the space domain's increasingly rapid development, asking bright middle and high school students to submit works that delved into the topic of Exploring Our Diverse Universe.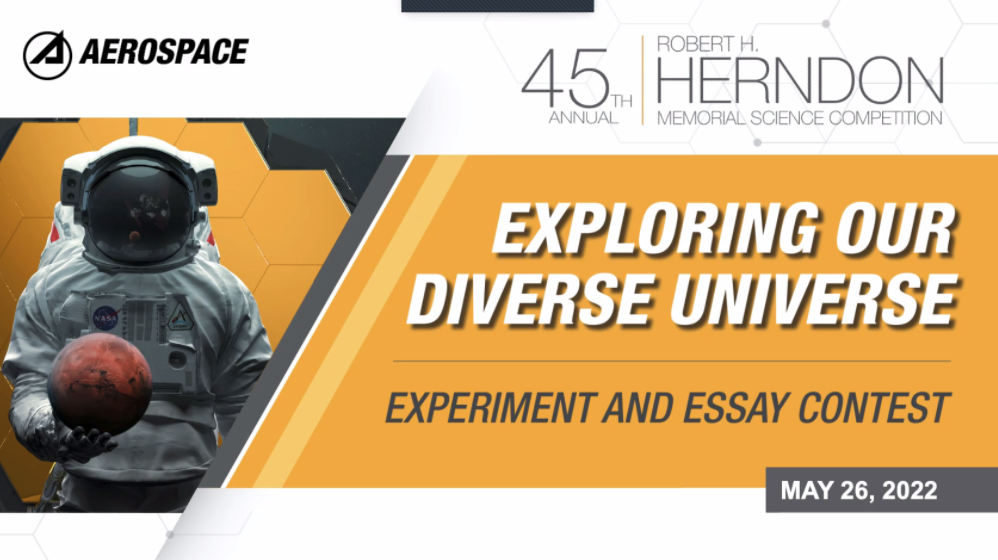 "The theme this year is diversity, emphasizing that a diverse approach is vital to continue learning about our universe," said Dr. Gretchen Lindsay, General Manager of Aerospace's Communications Technologies and Engineering Division, during her welcome remarks. "As aspiring scientists, each of you has the power to design new technology, solve challenging problems and answer questions about our world that will shape and reimagine our future in space, on this planet and maybe even other planets like Mars."
The competition is named after the late Robert H. Herndon, who served as an engineer, manager and mentor to many at Aerospace. Herndon was the first Black engineer at North American Aviation. He joined Aerospace as a structural engineer in 1961 and eventually became a group director of the Advanced Mission Analysis Directorate.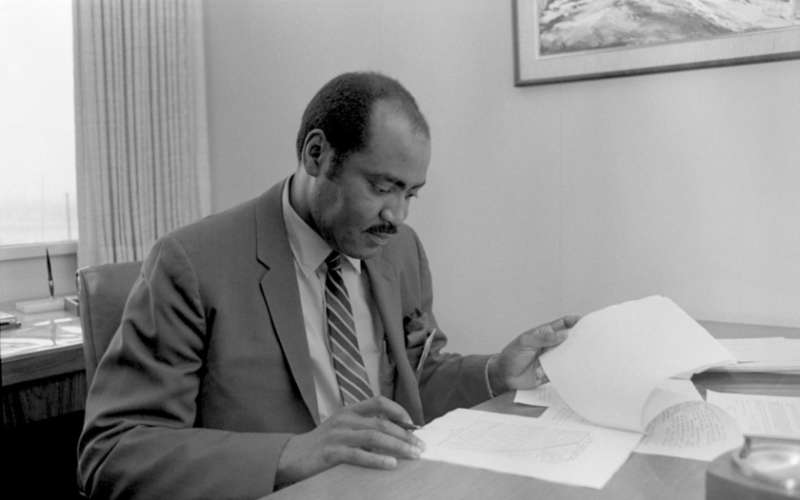 The annual event was established for middle and high school students in Los Angeles County in 1977, and an East Coast counterpart for the Washington D.C.-area began in 2000. The competition's guiding objective is to spark and encourage interest among unrepresented students in science, engineering and technology, and increase diversity across the aerospace sector.
Recently, Aerospace had the opportunity to judge four regional science fairs in the Washington-D.C. area. In addition to giving community awards at each event, Aerospace invited 79 student projects to participate in the Herndon Science Competition. A total of 25 different schools from the West and East Coasts were represented in this year's competition.
The Essay Evaluation Committee judged 11 works based on a set of criteria, which included the quality of analysis and demonstrated technical depth according to the writer's grade level. For the experiment contest, judges reviewed 29 abstracts and selected the top entries for final judging. Prior to their live presentations, finalist teams could request support from an Aerospace advisor.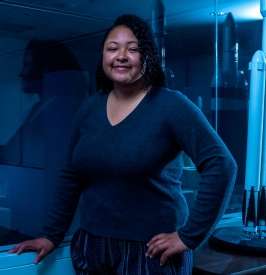 This year's keynote speakers were Ashley Carpenter, 2019 Dr. Austin STEM Scholarship recipient, and Itzel Sanchez, the 2020 awardee of the same scholarship and a former Herndon Science Competition participant.
"I want to congratulate all of you for competing in Aerospace's longest-running science competition," said Carpenter. "And I applaud you for challenging yourselves and pursuing extra activities that will help you find your passion. Having passion and believing in yourself are both very important and will sustain you as you reach for your dreams. I encourage all of you to dream big."
Both shared their journey in finding and pursuing STEM, challenges they faced and overcame, and key figures that provided guidance, including high school teachers and Aerospace mentors. For Itzel, participating in her high school's robotics club helped her find a place of belonging and set her on her STEM path.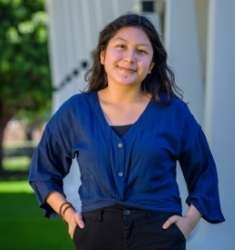 "I was so amazed at what these students were doing, and I felt like I was missing out on a cool experience," said Itzel. "It was a challenge to explore this new extracurricular, especially because I had no experience in robotics. Over time, I have grown and learned. I realize now that the high school robotics club was much more than competing in tournaments. This was a network of students of color who were changing the image of my hometown through STEM."
2022 Herndon Science Essay Competition Winners
| | | | | |
| --- | --- | --- | --- | --- |
| Category | Place | Name | Title | School |
| High School | First | Alyssa Mastro | Alternative Energy Sources in Space | Woodson High School |
| High School | Second | Kristen Sayano | Coronagraphic Spectrometry: A New Method for Exoplanet Detection and Classification | West High School |
| High School | Third | Caelan Hagopian | Investigating the Future of Energy: the Conundrum of Limitless Resources for Space Exploration | Woodson High School |
|   |   |   |   |   |
| Middle School | First | James Sayano | Re-imagining the Future | Jefferson Middle School |
| Middle School | Second | Aanya Tripathi | Robots Change Space Exploration | Bert Lynn Middle School |
| Middle School | Third | Humza Khan | Digging Deep into Our Vast Universe | Bert Lynn Middle School |

 
 
 
 
 
 
 
 
 
 
 
 
 
 
2022 Herndon Experiment Competition Winners
| | | | | |
| --- | --- | --- | --- | --- |
| Category | Place | Name | Title | School |
| High School | First | Alison Stosser, Jordan Tritasavit, Max Zhang and Tinh Nguyen | The Seahorse | El Segundo High School |
| High School | Second (tie) | Ravin Joshi | Constructing a Reusable Solid-fuel Rocket Capable of Propulsive Landing | Academies of Loudon |
| High School | Second (tie) | Shaunak Sinha | PAMN: A Novel Cooperative Modular Neural Network to Accurately Predict and Optimize Electrical Energy within Heaving Point Absorbers | George C. Marshall High School |
| High School | Third | Justin Pokrant | The Effect of Seawall Design on Flood Prevention | Westfield High School |
|   |   |   |   |   |
| Middle School | First | Errine Park, Yuha Lim and Gavin Sarmiento | Arduino Package Protector | Rudecinda Sepulveda Dodson Middle School |
| Middle School | Second | Alex Zakrewski, Sebastian Muniz, Desmond Sparks, Andrea Menendez and Gavin Wilson | Filtering Harmful Coliform Bacteria from Lake Water Using Wood | Dana Middle School |
| Middle School | Third | Gema Solorzano and Michelle Salgado | Solar Engine | Montebello Intermediate School |