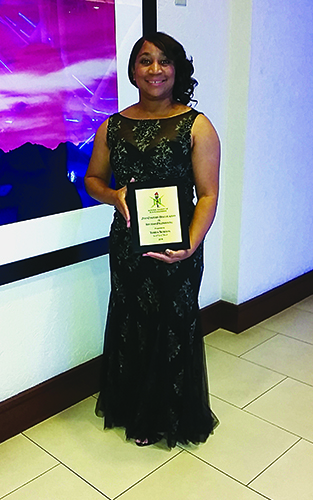 Success in great endeavors is rarely swift or easy—but so what? The thing is, it's not even required—if you genuinely, deeply love what you do. Some distant, "sweet realization of reward" is not the end game for those who embrace their work; it's all about the process, which is itself its own payoff. Yet when success is achieved, it is worth noting and celebrating.  
To that end, The Aerospace Corporation was pleased to recognize this timeless quality of excellence and perseverance in our own Terita Norton, recipient of the 21st Century Trailblazers in Systems Engineering Award. 
This award was presented as part of the 2018 National Society of Black Engineers (NSBE) Celestial Torch Awards, which took place at the 2018 NSBE Aerospace Systems Conference held in Houston, TX.
Along with being a highly respected and exemplary aerospace engineer, Norton's inspiring leadership of Aerospace's STEM outreach programs in Chantilly, VA has energized the next generation of rising systems engineers.