The Aerospace Corporation is committed to building innovation through collaboration and diversity. Through exposure to new ideas and perspectives, our diverse teams can create novel solutions for addressing the hardest problems in space. In 2021, Aerospace created UPLIFT, a new collaboration program dedicated to building exceptional talent and improving our STEM diversity. The program invites students, professors and industry professionals to network and present their research to the Aerospace technical community, paving the way for a culture of collaboration and innovation to thrive. With particular focus on students in underrepresented minority groups, this program bolsters our STEM and Aerospace community by increasing student career growth and diversity awareness.
The UPLIFT program was developed by Aerospace's Physical Science Laboratories (PSL) to connect historically underrepresented Ph.D. students, postdocs, faculty and space professionals with the science and engineering experts at Aerospace. UPLIFT facilitates meaningful relationships between Aerospace staff and promising talent by providing opportunities to engage with the organization to share research and diverse perspectives.
The key objectives of UPLIFT are to build community and collaboration with talented, diverse scientists and engineers, expose Ph.D. students to Aerospace science and R&D careers, and to collaborate with industry or university professionals whose research aligns with PSL.
"At Aerospace, we believe that the best science and engineering happens in an environment where all voices are heard and respected. This collaborative environment drives innovation," said Dr. Timothy P. Graves, General Manager of PSL.
In the program's first year, UPLIFT has welcomed eight speakers to present their work, including five Ph.D. students, two research scientists and one professor across a wide range of topics.
The program is comprised of three parts: UPLIFT Seminar, UPLIFT Connect and UPLIFT Engage. The multi-faceted approach is designed to encourage meaningful connections to develop between presenters and Aerospace professionals.
"Fostering diversity creates a better working environment, not only for diverse people, but for everyone at Aerospace," said Don Walker, PSL Senior Scientist.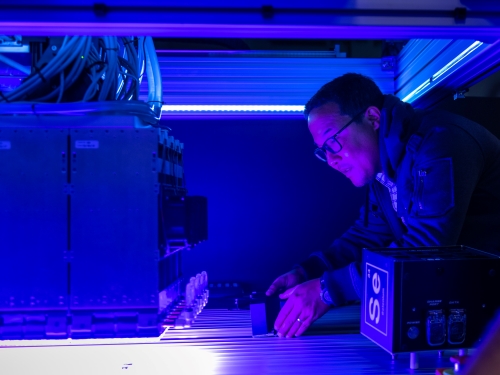 UPLIFT Seminar is a key aspect of the program that provides speakers the opportunity to come to Aerospace and share their research and expertise. Through Seminar, speakers can present  their technical research through an UPLIFT Science talk or they may present successful strategies and programs for amplifying underrepresented voices through an UPLIFT Impact talk.
UPLIFT Connect facilitates collaborative relationships between Aerospace staff and promising talent by providing opportunities for the speakers to connect with company leaders and diverse experts in the field on technical or career-related topics.
"We want to form connections and support these students with their research while they obtain their degree," said Amber Glow, PSL Strategic People Partner.
This can include meeting with staff, engaging with researchers, and networking with Employee Resource Groups like the Aerospace Women's Committee, Aerospace Black Caucus, Aerospace Totally Adaptable Group, or the Aerospace Lambda Alliance.
Through UPLIFT Engage, the UPLIFT committee connects with the speakers to discuss additional ways to collaborate and stay connected with Aerospace. This includes connecting speakers to the Aerospace organization through social media and monthly newsletters to stay engaged with the happenings in the organization. If applicable, speakers will also be invited to attend networking, educational or developmental events after their Seminar Day.
"When you treat diversity as the asset that it is, you end up with a stronger, better-performing organization," said Walker.
Both Aerospace employees and speakers benefit from engagement with UPLIFT. Everyone involved is able to collaborate with researchers, industry professionals, professors and students in the field and learn from each other and the research taking place across the industry.
"We really want UPLIFT speakers to enjoy the experience and get the most out of it. Hopefully they walk away thinking Aerospace is an amazing place to start their career, or they are excited to partner with us as we move forward," said Glow.
After the success of UPLIFT's first year, the program hopes to further expand, featuring even more speakers in 2022 and beyond.
If you know or are a Ph.D. student, post-doc, or professor with research focusing on Physics, Chemistry, Engineering, Materials Science, Space Science, or another related area who would like to participate in UPLIFT, you can contact uplift-psl@aero.org.
The Aerospace Physical Sciences Laboratories (PSL) offer a diverse research portfolio, including 156 different laboratories, blending foundational scientific expertise with cutting edge research to serve a broad customer base. The exclusive ability to work with all stakeholders, including government, industry, and academia, enables us to provide novel solutions to the most challenging issues in current and future technologies. All PSL laboratories, capabilities, and personnel require diverse teams to tackle the new challenges of our space enterprise.
To learn more visit: aerospace.org/careers/PSL