Created by Aerospace's Physical Sciences Laboratories (PSL), The UPLIFT program looks to build relationships and to provide career development opportunities for the next generation of scientists and engineers for future collaboration and recruiting opportunities. The program is comprised of three parts: UPLIFT Seminar, UPLIFT Connect and UPLIFT Engage. The multi-faceted approach is designed to encourage meaningful connections to develop between presenters and Aerospace professionals.
Interested in participating or have a question about the UPLIFT Program?
Contact the UPLIFT team by clicking here.
UPLIFT: Engaging Research Leaders of Tomorrow
UPLIFT is an invitation-based seminar series to connect our organization with top talent from historically underrepresented groups within the science and engineering community (Physics, Chemistry, Engineering, Materials Science, Space Science, and others). UPLIFT aims to build relationships and to provide career development opportunities for the next generation of scientists and engineers for future collaboration and recruiting opportunities.
Aerospace Virtual Tours
Aerospace's virtual tours allow you to explore our state-of-the-art facilities from the comfort of your own desk. Available self-guided tours include:
• Physical Sciences Laboratories
• Payload Characterization and Environments (PACE) Lab
• Guidance and Control Subdivision
• iLab

Aerospace's Physical Sciences Laboratories (PSL)
Physical Sciences Laboratories supports the effective and timely development and operation of national security systems through scientific research and the application of advanced technologies.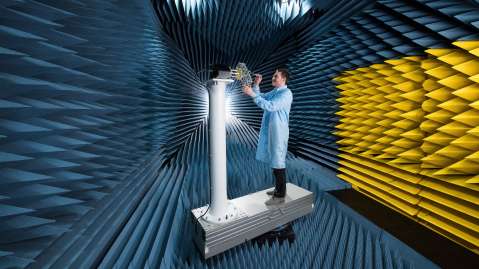 Aerospace's Vehicle Systems Division
The Vehicle Systems Division (VSD) provides engineering solutions to the nation's vehicle system challenges when and where they are needed. Our work spans innovative research and development; technical evaluations during the acquisition process; conceptual and detailed design, assembly, integration and testing; and operational support to launch and space vehicles. Comprised of highly trained mechanical and aerospace engineers, VSD provides national expertise in the fields of vehicle engineering; guidance navigation and controls; electromechanical devices; embedded systems; flight mechanics; fluid mechanics; thermal systems; propulsion; mechanisms; structures; structural dynamics; and dynamic environments.
Our Culture
Working at Aerospace means ensuring the safety and success of every government, civil and commercial space mission which means thinking big and aiming high. You'll work side-by-side with some of the brightest minds in the field who will support you on whatever path your career takes. As an independent nonprofit, we deliver objective technical analysis, searching for technical truth and tackling the most complex challenges to ensure the safety and security of the U.S. space enterprise.

Join our team and take your place in space.
All Aerospace employees working in organizations with technical responsibilities are required to apply for and maintain at least a Secret clearance.  U.S. citizenship is required for those positions.
Equal Opportunity Commitment
The Aerospace Corporation is an Equal Opportunity/Affirmative Action employer. We believe that a diverse workforce creates an environment in which unique ideas are developed and differing perspectives are valued, producing superior customer solutions. All qualified applicants will receive consideration for employment and will not be discriminated against on the basis of race, age, sex (including pregnancy, childbirth, and related medical conditions), sexual orientation, gender, gender identity or expression, color, religion, genetic information, marital status, ancestry, national origin, protected veteran status, physical disability, medical condition, mental disability, or disability status and any other characteristic protected by state or federal law. If you're an individual with a disability or a disabled veteran who needs assistance using our online job search and application tools, or need reasonable accommodation to complete the job application process, please contact us by phone at 310.336.5432 or by email at ieo.mailbox@aero.org. You can also review Know Your Rights: Workplace Discrimination is Illegal, as well as the Pay Transparency Policy Statement.
Space News Happens Fast
Don't miss out on the latest from Aerospace