I am pleased to present The Aerospace Corporation's 2023 Corporate Social Responsibility Report, which details the ways our people are fostering a culture of purpose to make an impact across our industry and in our communities around the country. With a focus on leadership and collaboration, Aerospace is finding new ways to expand our reach by forging new partnerships and building on existing ones to inspire others through the wonders of space and create pathways into STEM careers.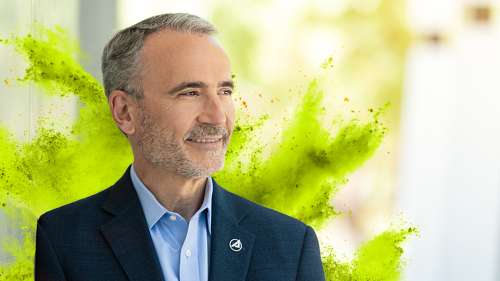 Our success during this exciting time in space depends on a vibrant, diverse workforce, and Aerospace continues to be a driving force behind Space Workforce 2030. This ambitious effort, launched in 2022, is backed by 30 leading space companies that have committed to work collaboratively to advance diversity and representation across our industry. This past year saw the collection and public release of unprecedented industry demographic data, as well as the inaugural year of the National Space Intern program, a signature initiative that connected more than 300 students from underrepresented backgrounds with space engineering internships.
These efforts complement Aerospace's ongoing commitment to advance diversity, equity, and inclusion within our company and shape an innovative workplace that empowers our people to make a difference to our nation's space programs. We are proud to partner with our Employee Resource Groups to provide meaningful avenues for professional and personal growth for their members, and we continue to grow the Aerospace Rising Stars program, which serves as a hub for Aerospace's STEM scholarships and its partnerships with professional and academic organizations dedicated to making space accessible to people of all backgrounds.
Driven by a shared sense of purpose, Aerospace's people are focused on effecting change where it matters most, dedicating their time and energy to serve the communities where they work and live. From classrooms to robotics competitions to science fairs, our team is always on hand to share their passion for space and engage with educators and students as they explore all that STEM has to offer. Our people also regularly give back through volunteering efforts, like supporting our military partners at community events, raising donations for those in need, and new outreach activities such as Aerospace's first-ever corporate-sponsored Martin Luther King Jr. Day of Service.
In the pages ahead, you will learn more about Aerospace's role in shaping a diverse space workforce—building connections that strengthen our communities and creating a thriving workplace culture for all our people.
Sincerely,
Steve Isakowitz
President and CEO
The Aerospace Corporation