NIRAC Camera Captures Atmospheric Glow
The Earth's atmosphere is never completely dark. Even at night, the atmosphere gives off light because of chemical reactions that are taking place. This phenomenon, known as airglow, has inspired an Aerospace team to develop a camera to capture airglow effects and its stunning imagery.

Innovation at Aerospace
Innovation is rooted in our DNA, from our historic work in the development of GPS to the complex problems integrating existing and emerging technologies into today's space enterprise. As space technology and exploration rapidly evolves, Aerospace continues to be a leader in space innovation with numerous programs designed to discover, develop, and challenge the next generation of space thought leaders, engineers, and explorers.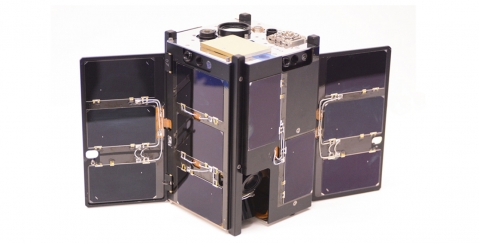 Advancing Laser Communications Technology
NASA is sponsoring an Aerospace-built CubeSat, AeroCube-7, as part of its Optical Communications and Sensor Demonstration (OCSD) mission. AeroCube-7 is designed to demonstrate two significant capabilities that will be of value for the expanding small satellite industry: demonstrating high-speed optical transmission of data and proximity operations between two small satellites.
Electric Propulsion for Spacecraft
Electric propulsion of spacecraft, or "EP", involves the application of electrical energy as a source of thrust to propel spacecraft. The Aerospace Corporation has developed a remarkably comprehensive suite of diagnostic tools that have become an indispensable, go-to resource for any party seeking to test the viability of new EP methods.
Join Our Mailing List
Get the latest news and information from Aerospace