Space has never been more exciting. The advancement of space technologies, capabilities and accessibility is accelerating at an unprecedented pace. This excitement for new possibilities presented by the next frontier has attracted more attention and increased demand for talented innovators with bold ideas.
To better engage with the next generation of technical leaders, The Aerospace Corporation is partnering with top universities and their faculty around the country to provide resources, mentorship, and hands-on experience for students to explore potential career paths in the space sector.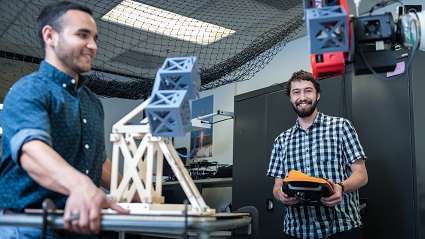 Through the University Partnership Program (UPP), Aerospace collaborates with professors within select universities to offer students opportunities to participate in sponsored research and development projects, network with Aerospace technical experts, and gain valuable experience through internships.
"Collaboration is a key component of innovation and we use our university partnerships to build an ecosystem that connects students and professors with Aerospace experts and interesting problems that will help shape the future space enterprise," said Erica Deionno, iLab UPP portfolio manager.
Though a partnership between iLab and Aerospace's University Relations and Recruiting (UR&R), Aerospace sponsors an extensive portfolio of R&D projects with partnering universities, selected by a range of factors, including diversity quality and research strengths. These projects include leveraging artificial intelligence to track objects in orbit, machine learning with environmental data, and robotics for in-space assembly.
The iLab and UR&R program is forging strong relationships with professors to coordinate special events, such as guest lectures, seminars, and capstone classes for students. These events will also provide unique insights into all the impactful projects and programs that Aerospace supports as a trusted partner for the preeminent space enterprise.
As a federally funded research and development center (FFRDC), Aerospace engages with every segment of the space ecosystem, from defense, civil and commercial space, and has a rich history partnering with academic institutions to support the nation's space programs and advance innovation for new technologies. UPP builds on those connections by creating new channels for students to explore their potential future and rewarding careers at Aerospace.
Aerospace is committed to creating a diverse, equitable and inclusive workplace where our people are empowered to bring their best selves to collaborate and create innovative solutions for partners in industry and government and push the frontiers for what is possible in space.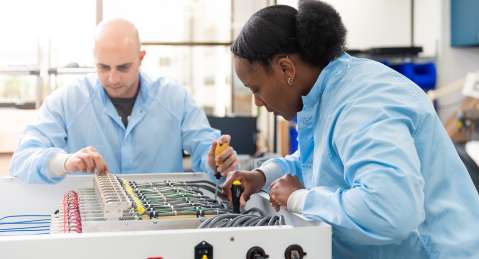 Take Your Place in Space
At Aerospace, you'll help build and protect the future of our world by solving some of the most critical problems in our universe. Join the team and take your place in space.
Space News Happens Fast
Don't miss out on the latest from Aerospace