Space is rapidly evolving into a more dynamic and challenging domain, requiring more resilient and responsive architectures and processes that accelerate and streamline access to orbit while harnessing cutting-edge innovations to provide greater flexibility and adaptability for space systems. 

The Aerospace Corporation's recently launched Slingshot 1 mission will leverage the potential of open standards and non-proprietary interfaces to simplify and expedite payload development and integration on next-generation satellite systems. In addition, the mission's modular architecture and autonomous technologies could usher in a new era of increased space system agility, resilience and extended spacecraft lifespans by allowing for on-board components to be more efficiently upgraded or replaced as needed. 

The Slingshot 1 satellite is a 12U CubeSat hosting 19 payloads, 16 of which were funded by Aerospace. In spite of its diminutive size, Slingshot 1 is brimming with a myriad of autonomy, robotics, propulsion, onboard processing and communication systems whose evolution and maturation require on-orbit testing. 

"Customization has traditionally played a major role in payload development and turnaround time," said Hannah Weiher, Engineering Manager in Aerospace's iLab and program manager for Slingshot. "With Slingshot, payloads conform to a basic standard in which they can plug in and work even if they're late in the development timeline."
Modular Payloads, Open Standards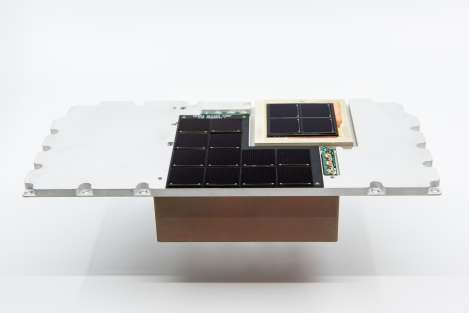 The payloads onboard Slingshot 1 are integrated through a standard interface, enabling a broad range of new technologies to plug together with greater flexibility and adaptability. The experimental payloads heading to orbit include Vertigo, a modular attitude control system that can enable satellites to point at targets on earth; Blinker, a GPS transponder for space traffic management; Hyper, a hydrogen peroxide thruster; and LaserComm, a next-generation space-to-ground laser communication downlink.
In addition, they are joined by payloads that provide the enabling capabilities of the modular architecture to work. An essential component of mission operations is Handle, an electrical interface module for satellite payloads designed to streamline the integration using "plug and play" technology. In essence, Handle enables the other payloads to communicate with the host satellite bus and other payloads regardless of underlying bus implementation and design specifics. Handle also eliminates the need for any tailoring of the flight system to incorporate new payloads, allowing for manifest changes at any time in the development process.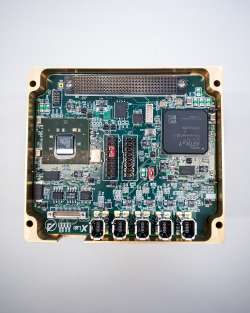 The mission will also demonstrate the capability of the Handle module's SatCat5 Ethernet switch, which will allow communication between payloads using commercial tools and open-source code from the extensive Ethernet ecosystem.
"Until now, payloads had to be designed with a specific, proprietary bus in mind," said Alexander Utter, Senior Engineering Specialist in the Digital Communication Implementation department and project leader for SatCat5. "We designed Handle as a universal interface that serves as an insulating layer between the payload and the bus. This way, payloads can be developed independent of any bus specifications."
SatCat5 is functionally equivalent to commercially available, unmanaged Ethernet switches for home use. However, its blend of higher-rate and lower-rate data links allow nearly any device to participate in the same local communication network, regardless of its capability level.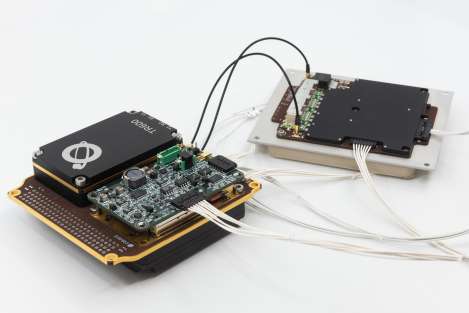 Providing satellite-to-ground communications for Slingshot is Software Defined Radio (SDR) 2.0, a next-generation S-band downlink that can remotely provide firmware updates of on-board hardware to suit customer needs. 
"Like SatCat5, SDR is commercial technology that's widely available," said Andrew Lin, Engineering Specialist in Digital Communication Implementation. "The Slingshot 1 platform is enabling us to fast-track the testing of newer, more advanced iterations of commercial technologies for use in space."
For cyber defense, Slingshot 1 will make use of Starshield, which protects spacecraft from cyberattacks by detecting signs of cyber intrusion and mitigating attacks on board the spacecraft. Starshield leverages machine learning and other methods including advanced analytics capable of detecting new types of attacks. If an attack is detected, Starshield can automatically intervene to prevent or stop the spread of the attack and give operators on the ground ways to recover the mission.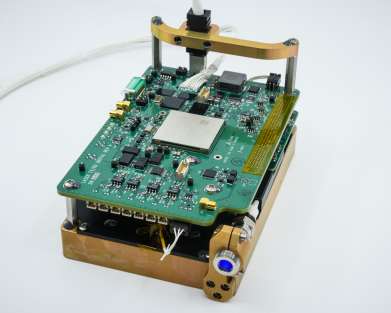 "Starshield improves space cyber defense by moving the defensive capabilities from ground to onboard, giving spacecraft a way to defend themselves against attacks," said Nicholas Cohen, Principal Engineer/Scientist in Cybersecurity and Advanced Platforms. "In an era of contested space, this will help ensure space missions continue to operate, even under new threats.
Faster Development, Faster Access to Space
Currently, satellite mission architecture relies predominantly on methods tailoring to different proprietary standards, requiring lengthy development cycles to ensure commands to payloads, power distribution and data systems are operating effectively. Slingshot's modular approach provides for greater cost and schedule efficiencies, enabling opportunities to accelerate research, development and testing, the simplification of interfaces presents tremendous advantages to parties wanting to get their payloads into space.
"The space landscape is changing very quickly, and technologies are changing very quickly," Weiher said. "Being able to rapidly test technologies in space is critical, and Slingshot is providing the ideal platform to do that."