Aerospace is strategically expanding our commitment to diversity equity and inclusion through the implementation of impactful outreach programs, providing the support of our technical and scientific experts to help inspire and guide K–12, undergraduate, and graduate students from diverse and underrepresented backgrounds, and helping to ensure they have opportunities to take their places in space.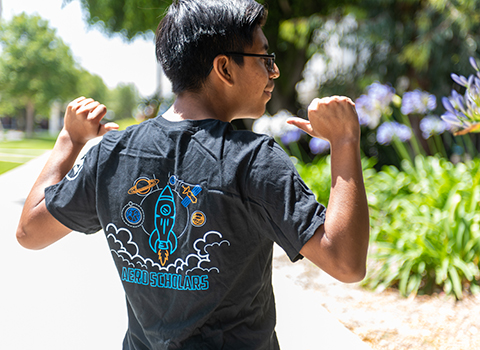 The Aerospace Rising Stars (ARS) program is a multifaceted initiative that provides diverse students with pathways to succeed in higher education and their careers. The program also aims to increase the number of diverse students and women in Science Technology Engineering & Math (STEM) disciplines across the industry. By providing an environment that enhances students' personal and professional development and facilitates their entry into and continued success in academia, industrial, and research careers, the program empowers students to thrive and immerse themselves in their passion for STEM. The ARS program includes initiatives, such as The Wanda M. Austin STEM Scholarship, The National GEM Consortium (GEM), Brooke Owens Fellowship Program, Matthew Isakowitz Fellowship Program, Patti Grace Smith Fellowship Program, The University of Southern California's Women in Science and Engineering Aerospace Corporation Research Fellowship, California State University, Long Beach's The Aerospace Corporation Dean's Leadership Academy Scholarship, Aerospace Corporation HBCU (historically black colleges and universities) Scholarship, and the Aerospace Future STEM Leaders Scholarships.
The Wanda M. Austin STEM Scholarship continues to provide diverse students with pathways to and support through higher education. By providing students with a renewable four-year scholarship, as well as mentorship and a paid internship at Aerospace, the program helps support recipients and guide them on their paths through college, the aerospace industry and beyond.
This year, five rising high school seniors were awarded the 2022 Aerospace Future STEM Leaders Scholarship, which provides mentorship to the recipients from Aerospace employees throughout the school year, as well as a one-time $5,000 scholarship for each recipient to use in college or university. The program expanded in 2022 to include Hill Air Force Base, Utah. Our first-year recipients from 2021 are currently attending New Mexico Institute of Mining and Technology, The University of Virginia, and Purdue University.
Aerospace's invitation-based UPLIFT seminar series is continuing to foster connections with some of the brightest minds of tomorrow. UPLIFT was created by Aerospace's Physical Sciences Laboratories to connect Ph.D. students, post-docs, faculty, and space industry professionals with our science and engineering community. Over this last year, dozens of students have joined the program and presented their research at Aerospace. Through UPLIFT, collaborative relationships are facilitated between our staff and promising talent from historically underrepresented groups by providing opportunities to engage with our organization to share research and diverse perspectives. By supporting a diverse range of students, Aerospace is helping to provide more equitable opportunities to everyone interested in careers in space.