Across the country, employees at Aerospace utilize their talents to give back to those who need it most. Through the wide range of outreach opportunities at Aerospace, our team has been able to make a real difference and support their communities. Partnering with and giving back to the communities continue to be priorities at Aerospace and this year we have been able to give back like never before.
This year, Aerospace hosted the 45th annual Robert H. Herndon Memorial Science Competition in Los Angeles (LA), Calif. Students participated through an essay competition or by participating in an experiment contest. Since its inception, the program has expanded to the community in Washington, D.C., allowing more low-income and minority students to have access to science competitions and programs that encourage them to explore their interests in subjects like science, engineering, and chemistry.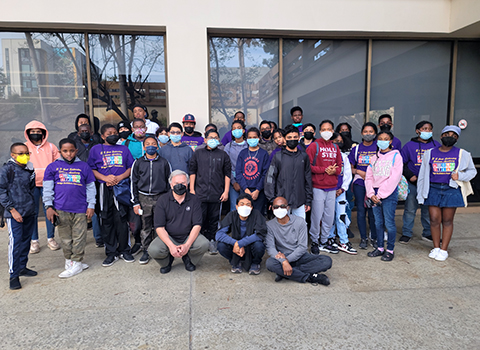 For years, Aerospace has coordinated outreach efforts with Science Olympiad (SO) to support the full range of students within our communities, especially at schools serving underrepresented populations across the nation. In addition to our employee volunteer and mentorship efforts for SO and the Aerospace Science Olympiad Urban School Initiative, we have been able to make an impact on the SO community across the country. This year, Aerospace's CEO, Steve Isakowitz, gave the welcoming speech for the opening ceremony of the 2022 National Science Olympiad Tournament. Across all platforms, the video received more than 260,000 impressions, reaching students, teachers and mentors in communities across the country.
Aerospace has been teaming up with the Bridge Builders Foundation, an organization that focuses on uplifting underserved youth in the LA Area for many years. Through the mentorship program, our employees have played a vital role in providing representation for these students, mentoring and tutoring them, supporting their interests in science, technology, engineering and math, and helping to get them excited about space.
Dedication to community engagement is something with which Aerospace's Bernard Jefferson is very familiar. As the 2022 recipient of Aerospace's Commitment to Our People Award for Leadership and Mentorship, Jefferson led by example, significantly improving the culture of Aerospace with a focus on inclusiveness and giving back. Through a capstone program with Howard University, Jefferson led Aerospace's engagement and increased student participation by 500 percent, strengthening connections with these students and the university.
Giving back in such a personal way would not be possible without the help of Aerospace volunteers who generously give their time and talents to help others in their local communities and beyond. In order to recognize some of our many volunteers, this year Aerospace continued highlighting volunteers each month through the Volunteer of the Month campaign and other volunteer recognition efforts. In addition, this year we began a volunteer recognition program where volunteers are rewarded dollars via our volunteer portal, Aero Cares, to be donated to causes that they care about, allowing them to amplify the ways in which they give back and the impact of their service and time. Throughout the year, our volunteers have donated more than 10,000 hours of their personal time to causes they care about, showing just how dedicated they are to making differences in their communities.
The culture of giving back runs deep at Aerospace. It is our volunteers who generously give their time and talents to help others in their local communities and make the meaningful impact of our outreach possible.