Mentorship plays a vital role for both students and professionals alike. For decades, Aerospace employees have been dedicated to mentoring within the corporation by sharing their wealth of knowledge, information, and experience. Equally as important is mentorship of the next generation, those whose curiosity have been sparked and are just beginning their journey.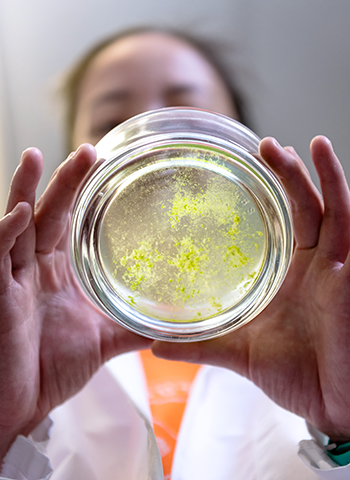 This year, 12 mentors worked with 24 college students enrolled at California State Universities (CSUs) as a part of STEM (Science Technology Engineering & Math) Advantage. The CSU system is the largest and most ethnically diverse four-year public university system in the nation, and more than 50 percent of the student body is comprised of people of color. Through this program, mentors are able to serve as role models to offer support, advice, and coaching for personal and professional growth.
In support of the Aerospace Science Olympiad Urban School Initiative, more than 30 Aerospace employees teamed up with employees from Caltech to mentor 70 students from Title I schools in Los Angeles (LA), Calif. These efforts allowed students to engage with STEM topics in ways they would otherwise not have access to due to resource constraints. Through events like this, Aerospace provides essential support for diverse students from underrepresented communities and help support their passions for and interests in STEM.
Other Aerospace mentorship initiatives include LA Team Mentoring (LATM), a program that provides free mentoring services to 600 at-risk middle schoolers from Title-I schools in the LA Unified School District and City of Angels Virtual Academy. In the 5th year of our partnership, volunteers mentored LATM students in a group setting through their online E-Works program. Aerospace also held a virtual career exploration event in January, which featured a virtual workshop aimed at sparking an interest in STEM. The students had the unique opportunity to learn from the Aerospace mentors and complete online activities. During a teambuilding event for the End of Year Celebration, students were excited to share their knowledge with their Aerospace mentors and celebrated their accomplishments together.
Aerospace's employees, like Robert Schoenberger, have spent hundreds of hours dedicated to inspiring the next generation of space scientists and engineers. Schoenberger mentored two teams at Mark Twain Middle School, a Title I school in LA, and has been able to greatly expand the students' knowledge and their results in Science Olympiad competitions.
"I'm so proud of all the hard work the students have put into this," said Schoenberger. "It is so rewarding to see how far they have come over the year. They have learned so much and it is great to see them having fun and being so passionate about science."
Through a unique eMentorship platform, Aerospace has been able to continue our commitment to TryEngineering Together, allowing employees to inspire and connect with students to advance their opportunities for learning. During the 2021-2022 school year, Aerospace partnered with two elementary classes in Houston, Texas, and will move to the Colorado Springs, Colo., region for the 2022-2023 school year. Through the program, 41 students were paired with mentors, with over 540 letters exchanged.
Through mentoring, our employees are able to make a tangible, personal impact on the lives of others. In sharing their experience and advice, and guiding students and early career employees, Aerospace mentors provide valuable support and guidance to the future of the aerospace industry.