The desire for increased agility in the space environment emphasizes the importance of effective propulsion systems. However, certain challenges can exist depending on the spacecraft. For example, a smallsat's propulsion system often requires compromise on pressure, power, or overall performance due to its miniaturization.
The Aerospace Corporation has an extensive history of applying its technical expertise to the propulsion science field. Aerospace engineers and scientists have previously demonstrated that size and safety can be achieved on smallsats: a xenon cold gas thruster launched in 2006 and a steam thruster flew to space in 2017. Researchers collaborated with the University of Southern California to develop a monopropellant vapor propulsion system in 2019.
A key element to propulsion success is the ability to test the technology before launch. To understand a propulsion system's potential performance in-depth, Aerospace's Physical Sciences Laboratories (PSL) have various facilities ready to investigate across the spectrum.
Chemical Propulsion: Understanding the Need for Power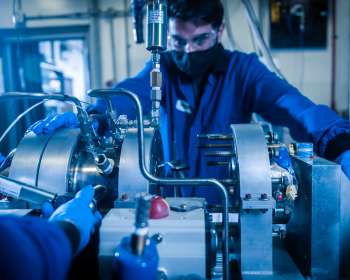 A rocket producing clouds of exhaust during launch is a classic example of chemical propulsion—thrust created by a chemical reaction. Rockets require this powerful but short-lived form of combustion to escape Earth's atmosphere and reach orbit.
At Aerospace, the Propulsion Research Facility (PRF) tests hazardous chemical propulsion technologies to ultimately improve propulsion reliability and performance. The site can perform assessments that only a few other places in the United States can. The facility's capabilities include the ability to remotely perform high-hazard experiments in a reinforced test cell with laser access, high-speed data acquisition and automated control systems, and diagnostic instruments.
Electric Propulsion: Navigating Space-like Conditions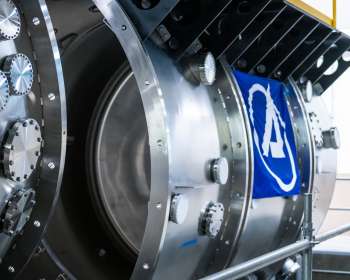 Electrical propulsion (EP) may seem less flashy than chemical propulsion and the gentler option— the thrust produced by an EP device is the equivalent to the weight of a quarter in a hand. Yet, EP is the practicable propellant medium in space due to the efficiency and longevity of its thrusters. These qualities make this type of propulsion ideal for satellite orbit insertion, repositioning, and deep space missions. Aerospace's Electric Propulsion Lab provides end-to-end testing of EP thrusters: from measuring thrust and exhaust velocity to plume characterization—which can help quantify the risk of damage to other areas of the spacecraft. The laboratories also conduct non-invasive testing using laser and optical diagnostics.
The newest addition to PSL is EP3 (see Virtual Tour), a vacuum chamber standing at 14 feet in diameter and 30 feet long. The chamber will be the most advanced electric propulsion testing facility in the world. Featuring increased pumping speeds to reach space-like conditions quicker and the ability to handle high-power thrusters, EP3 ensures the lab can increase its workload to further provide services to military, civil and commercial customers.
Micropropulsion: Addressing Even the Smallest Needs
On a smaller scale is the Micropropulsion Ground Testing Facility, also known as "The Snake Pit." The facility is tailored to test miniature propulsion systems, highly relevant since the smallsat field is growing rapidly. Because these devices typically produce a force equivalent to an eyelash falling on a hand, the pit employs precise, delicate instruments that are designed and built in-house to measure thrust. Additional testing can be performed to assess the thruster's performance, how long it operates, and if any type of failure is encountered.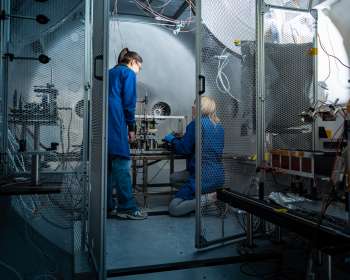 Comprehensive testing of a micropropulsion system can take about one month. For the customer's benefit, data is collected along with recommendations and feedback that can improve the tested propulsion device.
Aerospace has a record of providing support in propulsion system assessments—from large spacecraft to smallsats. With its multiple facilities, Aerospace continues to propel satellite capabilities forward to support diverse mission needs.
Space News Happens Fast
Don't miss out on the latest from Aerospace