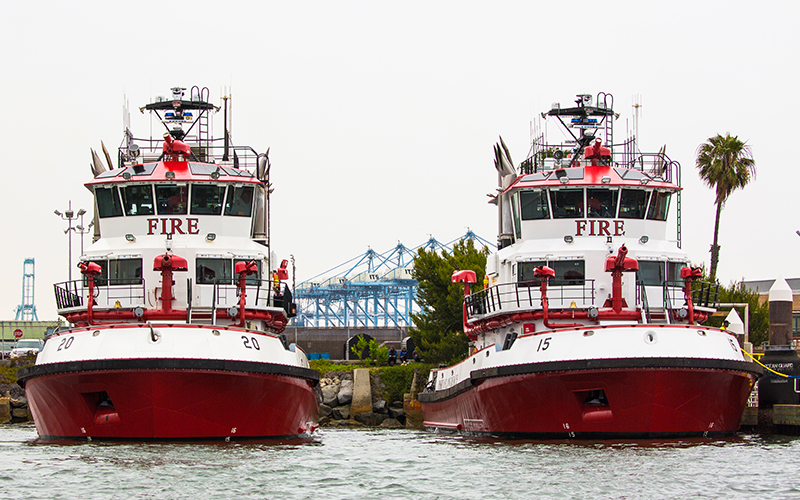 In 2016, the LBFD introduced Protector, a state-of-the-art fireboat, equipped with a full CBRNE detox area and detection system linked to a network shared by all emergency HAZMAT responders in the greater Los Angeles area. Through this network, all HAZMAT teams can see realtime updates of any incidents within their boundaries. The sensors housed on the boat allow the crew to detect and monitor incidents from a safe distance to avoid contamination, while remaining a viable source of help. Protector is docked at the firehouse in the Port of Long Beach, where the job of the port's station is to protect the immediate area from fires and to handle hazardous material incidents in the terminals.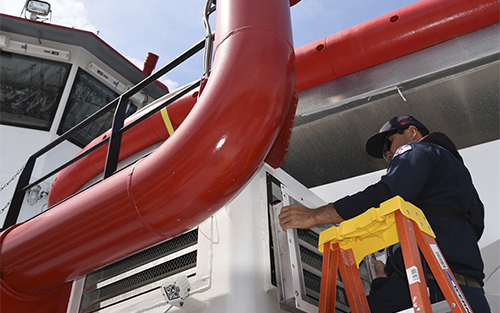 CBRNE And Hazard Detection System Verified
CBRNE detection systems and networks had been fully integrated with emergency responders for years, but before Protector, it had never been used off land.  This was the aspect of the system that Aerospace was hired to verify, in a first for both the company and the fire department. Aerospace's Space Science Applications Lab (SSAL) was enlisted to apply their knowledge and experiences in surveillance technologies to this task, demonstrating how space technologies can be applied in other areas. This verification process happened in two basic stages—testing the system within the Aerospace facilities to gain benchmark information, and then confirming similar results when the boat was at sea.
Partners In Hazard Detection
Research scientist Dr. Karl Westberg, Imaging Spectroscopy Department, SSAL, and other members of his team reviewed the CBRNE system, which was developed by Safe Environment Engineering in their labs. Once Protector arrived in the port and the sensors and network were installed, Westberg joined David Lamensdorf, president of Safe Environment Engineering, aboard the boat for a test run out to sea.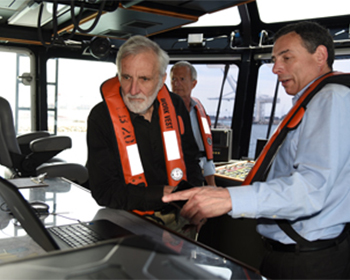 "I was impressed with the versatility," Westberg said. "It didn't seem to matter what instrument you wanted to use, it would be adaptable to this system." At more than two miles out, the network held strong, and the system received a green light from all parties.
Due to the success of Protector, the LBFD, Aerospace, and Safe Environment Engineering continued their partnership for a second fireboat, Vigilance, which was dedicated in Long Beach in November 2017.