The modern space industry is in the midst of an unprecedented boom. An influx of investor capital and new innovations from a growing community of ambitious startups are driving an acceleration of innovation in commercial space. For the nation's space agencies to maintain leadership and advance the ability to outpace the threat, embracing this dynamic could offer compelling opportunities for collaboration and leveraging new approaches and technologies to deliver faster and more resilient capabilities across diverse space missions.
To nurture and accelerate these opportunities, The Aerospace Corporation is launching a new Commercial Space Futures initiative, which will leverage the FFRDC's unparalleled technical breadth and depth to enable government space programs to harness the rapid advancements of mission-enabling capabilities from the commercial sector. As a nonprofit corporation, Aerospace is uniquely positioned to support the space enterprise as a trusted and objective technical advisor, free of conflicting interests.
Aerospace President and CEO Steve Isakowitz announced the news at TechCrunch's recent TC Sessions: Space 2021. The Aerospace-sponsored conference convened leaders from national security and civil space agencies, the startup community, venture capital and academia to discuss priority issues and new pathways to working together to achieve shared missions.
"It's certainly a very exciting time. What's going on in space today is what I often refer to as the great convergence, where I think for the first time since the dawn of the space age, we see all three sectors of space going through massive changes," Isakowitz said. "It used to be that the government was two-thirds of the funding of R&D 40 or 50 years ago, and that has completely flipped. It's now the private sector that's driving the innovations, whether it's AI, machine learning, or robotics. The government realizes that, and realizes it really needs to tap into what's now the leading edge, which is being led by the private sector."
The two-day hybrid TechCrunch event featured discussions across a wide range of topics related to government mission needs, startup maturation, raising venture capital, and highlighted emerging technologies for space.
Leveraging Commercial to Secure Space at Speed
"The pace of innovation on the commercial and industry side is such that in order to be good stewards of the taxpayer dollar, we need to find better ways to leverage the commercial innovation," said Lt. Col. Tim Trimailo of the U.S. Space Force's Space Systems Command. "The U.S. government is not the only government around the world that sees the explosion in innovation and that it is possible to leverage. At SSC, we're laser focused on the threat and we recognize that we need to shift our mentality to more of a buy-before-we-build construct."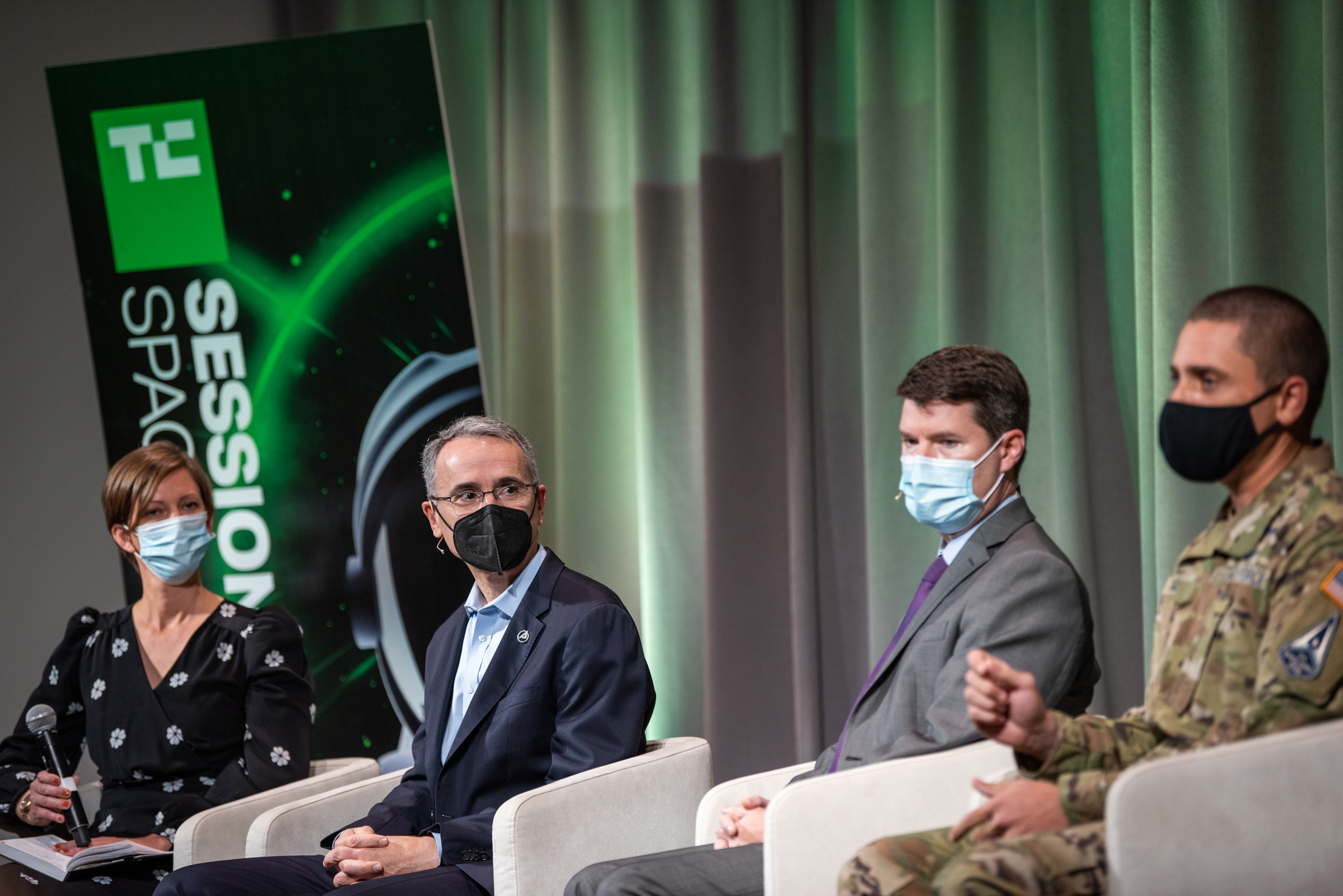 Trimailo discussed the need to reassess how government space has traditionally acquired capabilities and shift the priority from a primarily bespoke approach to one that first leverages the commercial landscape for lower-cost and more readily available solutions.
"The government is very interested in the commercial opportunities, but from the industry standpoint, it's hard to figure out what door to walk through, and how to make that contact," Isakowitz said. "The Commercial Space Futures organization within The Aerospace Corporation is going to bring greater focus to really up our game in terms of how we work with industry. It's really to go after what we see as the major obstacles."
Isakowitz explained the different ways in which Aerospace can collaborate with government and commercial space. The first is to serve as a front door in convening government and commercial opportunities, supporting the alignment of mission needs with attainable capabilities from industry. Aerospace can also help government agencies assess the technical, operational and financial readiness of early-stage commercial providers.
In addition, Aerospace continues to support the development of standards, regulations and interfaces that enable the execution of commercial integration. Furthermore, with its technical expertise and world-class research facilities, Aerospace is well positioned to support the maturation, verification and validation of commercial capabilities to ensure confidence for deployment in operational environments.
"We think it's very important to make sure that there is U.S. space leadership in the future, and a big part of that is commercial space leadership," said Pete Muend, Director of the NRO Commercial Systems Program Office. "We're very focused on making sure that the U.S. enterprise is involved in commercial space, or at the forefront, and are going to do what we can in order to help enable that. We pay very close attention to what commercial providers can bring to bear, but also on some of the financial aspects of how the commercial providers present capabilities to us. Of course, in the end, they have to present useful capabilities because we do have a mission to accomplish."
Advancing the Space Enterprise of the Future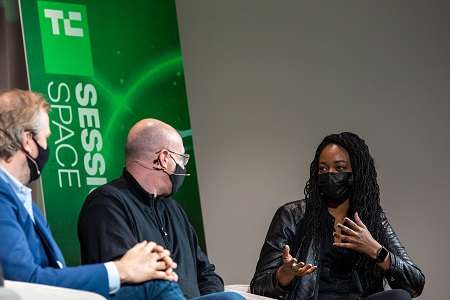 Access to space has become more accessible and in-demand than ever before. While commercial launches have been a primary example of the benefit industry providers bring to government space operations, it is only the surface of what's possible.
"The barriers to entry into space industry have been greatly reduced," said Debra Emmons, Aerospace's incoming Chief Technology Officer and Vice President, who led a panel on on-orbit serving, assembly and manufacturing (OSAM). "Over the last decade, we've seen hundreds of cube satellites launched into Earth's orbit from numerous startups and universities, and many of these are new to space. Last year, we even saw a new national initiative to promote satellite servicing and in-space technologies, essentially, to promote more collaboration and partnerships amongst government with industry and academia."
Building and maintaining relationships was highlighted as essential to successful government and commercial partnerships, not only with startups but also the venture capital community that funds them. This enables the development of strategic architectures and acquisition roadmaps that align with the direction of commercial innovations.
"Dual-use commercial technology is a very important part of it," said Lt. Col. Walter "Rock" McMillan, Director of SpaceWERX, which launched earlier this year as Space Force's arm to collaborate with startups. "If a company is well on its way to pursuing its commercial line, it's a great candidate for the [Strategic Funding Increase] STRATFI program because it's not primarily the government that's ingesting that risk. It's shared risk between the government and commercial industry. STRATFI, if you think about it as a program where the government is intersecting with the early-stage startups which is also intersecting with the private investor—then really trying to truly scale that technology we're focusing on—it helps us to better address that volume and depth."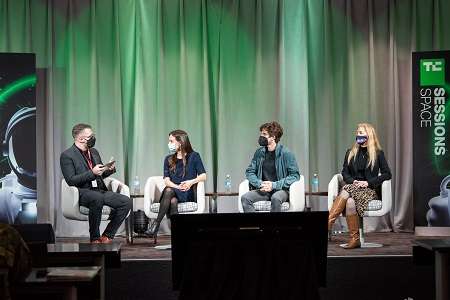 History shows that research and development for space technologies can also lead to innovations that have significantly wider applications, creating various avenues to pursue dual-use solutions on the commercial side that support government mission needs while also appealing to other industries and markets.
"All of the technology that we use here on Earth, saving lives every day, has been created and invented from space exploration, whether it's MRI or CT scanning technology, laser eye surgery, water purification systems, implantable walk, heart monitors, the list is endless," said Tess Hatch, Partner at Bessemer Capital Ventures. "I think going back to the Moon, Mars and beyond, and getting to and sustaining life on another planet, there will be many more incredibly important technologies being added to this list."
Space Is a Growing Ecosystem
The expansion of viable business models for commercial space is attracting new entrepreneurs and investors, and as the number of successful companies grows, so too does interest from new participants. This potentially creates a self-sustaining ecosystem that increases the options and opportunities that can be leveraged by government agencies to shape the future of space.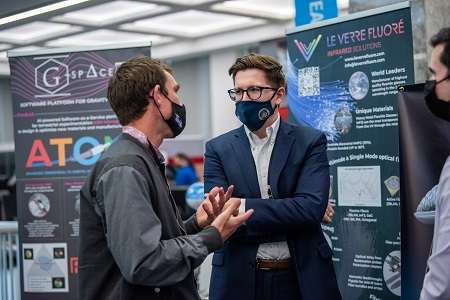 "There's definitely room in a $1 trillion market for multiple different strategies that will lead to success," said Benjamin Lyons, Chief Engineer of Astra. "There's the building up and building bigger, and bigger rockets that can deliver many, many payloads to a general orbit. But I also think there's a tremendous amount of value for low-cost launch vehicle that's built using methods that are highly scalable…that addresses the need to get to precise orbits and the opportunity costs for time to reaching that orbit."
Commercial space is poised to play a critical role in advancing the resiliency and speed of the space enterprise, but more importantly, it's a sign that collaboration—whether across agencies, mission areas or with international partners—is becoming more essential for the nation to maintain leadership in space.
"What's changed over the last 15 years is how we are doing things. We realized that our missions aren't just for us. We're actually trying to bring along as many people as we can," said Kathy Lueders, Associate Administrator of NASA's Space Operations Mission Directorate. "It's really this great period of time where we have all these different ways for us to do different projects and get to different ends with different means, and involving as many people as possible in those missions…I think this is a great period of time where it's not 'either/or'—it's 'and'."