Through expanding our community partnerships, Aerospace is committed to increasing access to Science Technology Engineering & Math (STEM) opportunities for students across the country.
For the second year, Aerospace sponsored Zero Robotics, the world's first robotics competition in space. This coding and robotics competition is a five-week STEM program for middle school students who learn about computer coding and robotics and compete in teams in a code-off competition through the 2022 Great Astro Spelling Bee.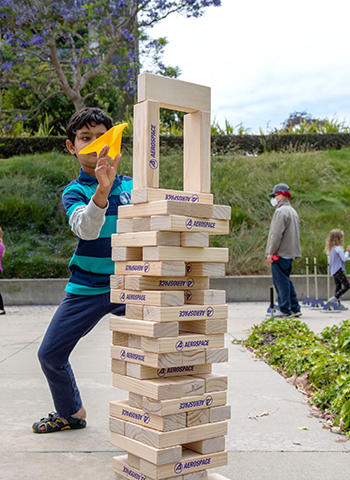 This year, 180 middle school students from 6 states across the country, many of whom are Latinx and Native American, participated in the program. On August 3, students got to go live with astronauts aboard the International Space Station (ISS). They were able to see their hard work come to fruition as their code sent the autonomous rover aboard the ISS, Astrobee's "Bumble," on a mission.
By exposing students to exciting and engaging STEM programs, Aerospace and our partners foster students' passions for STEM and ensure students in underrepresented communities are supported.
In partnership with the Smithsonian Science Education Center (SSEC), Aerospace expanded on last year's program to include 25 virtual classroom visits from our employees, reaching more than 380 students. This year, we completed the distribution of 10,000 copies of a multilingual resource book to first-grade students and 509 teachers across the Los Angeles Unified School District (LAUSD).
This year, Aerospace is sponsoring a fifth-grade reader and will be expanding to two more school districts across the country—Fairfax County, Md. and Prince Georges County, Va.—in addition to continuing our partnership with LAUSD. By meeting with students in the classroom and providing class resources, Aerospace provides educational support and a variety of resources for students and teachers alike. These classroom books and virtual classroom visits with leading aerospace engineers and scientists ensure students receive new and engaging materials as they explore their interests in space.
Aerospace continues to partner with SSEC in other ways, including providing volunteers to workshops held year-round. Through the support of these additional SSEC programs, we have been able to reach 525 teachers who have impacted 9,000 students across the country.
All students deserve equitable access to pursuing their passions for STEM. By utilizing our dedicated volunteers and partnering with other organizations, we are amplifying our impact and giving back to more students and teachers in our community, and fostering the passions of the next generation in space.