Itzel Thomas Sanchez is dedicated to sharing her passion for STEM. Now The Aerospace Corporation is honoring her passion by awarding Sanchez the 2020 Dr. Wanda M. Austin STEM Scholarship award.
Sanchez, who is interning in Aerospace's Acquisition Support and Information Department this summer, sought out extra STEM coursework through advanced placement classes. She led both the FIRST Robotics and Solar Cup teams for Compton High School and was on a team that won third place in Aerospace's Robert H. Herndon Memorial Science Competition, a contest designed to inspire middle and high school students to pursue engineering and scientific careers. Outside of the classroom, Sanchez actively worked to inspire other young, Latina, and underrepresented girls to find their passion in STEM by volunteering at annual STEM events such as Science, Technology, Engineering, Art, and Math (STEAM) Fest and Computer Science Expo.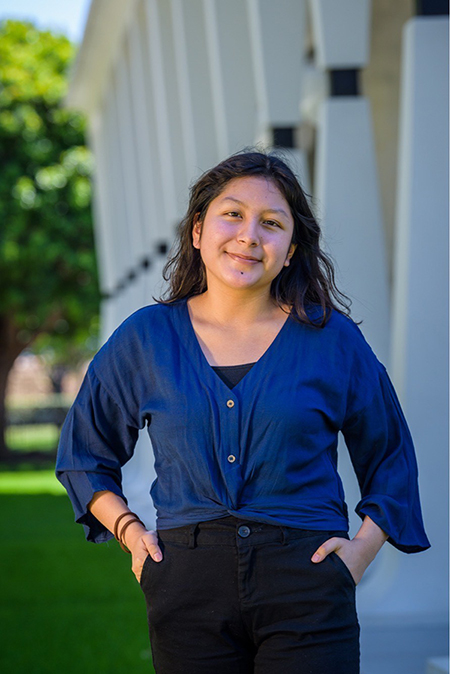 "Growing up in Compton, I experienced firsthand the lack of resources for STEM education, but I didn't let that hold me back from succeeding," said Sanchez. "I'm grateful that I now have that support from Aerospace so that I can realize my dream of attending college and becoming an engineer."
Sanchez graduated in the top one percent of her class and will be the first in her family to attend college where she will pursue undergraduate studies in civil engineering at Cal Poly, Pomona this fall. She plans to continue volunteering in college because she acknowledges the value and importance of increasing diversity in STEM fields.
"Itzel has proven to be an outstanding student who serves as a role model for all students who are overcoming major challenges and embracing the opportunities of STEM-related careers," said Steve Isakowitz, Aerospace president and CEO. "We are committed to nurturing Itzel's interest for engineering with a mentoring and internship opportunity at Aerospace."
Increasing diversity in science, technology, engineering, and mathematics (STEM) is at the core of Aerospace's outreach initiatives. For more than five years, the Aerospace STEM Endowment Fund has provided support to underprivileged, minority students achieving their dreams of studying science, technology, engineering, or math at a four-year college or university. The Dr. Wanda M. Austin STEM Endowment Fund was named after Aerospace's former CEO and President for her dedication to STEM education support.
The scholarship awards up to $10,000 a year—renewable for four years—to cover college tuition and expenses to one underrepresented and underprivileged high school student who demonstrates academic excellence and strong leadership skills. Recipients also receive paid summer internships at Aerospace and are partnered with Aerospace employees who act as academic mentors and life coaches.
In addition to the one annual scholarship awardee, Aerospace also provides awards to the other top applicants for the scholarship. The scholarship awardees and runners-up are collectively known as "AeroScholars," and are all placed in paid summer internships at Aerospace, where they work in such varied and interesting departments such as the Space Materials Lab, Information and Cyber Security, Software Quality and Analysis, Science and Technology Strategy, and Agile Systems Engineering. There are now 13 AeroScholars.
The inaugural Dr. Wanda M. Austin STEM Scholarship Winner, Heydy Arias, graduated from UCLA with a degree in mathematics June 2020. Heydy will continue pursuing her goal of being a high school math teacher and in fall 2020 will begin her teaching credential program at UCLA.
The Dr. Wanda M. Austin STEM Scholarship is funded through the Aerospace STEM Endowment Fund, which is sustained solely through employee and trustee donations, charitable organizations, and estate gifts.