Across the nation, Aerospace employees are dedicated to making an impact in their communities. By gathering together and giving back, Aerospace employees make tangible impacts on their communities.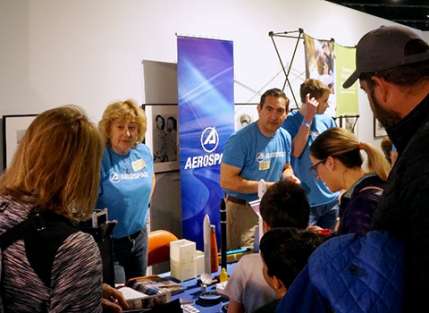 For the seventh year in a row, Aerospace has teamed up with the National Museum of Nuclear Science and History to support their Discover STE(a)M (Science Technology Engineering Art & Math) event. Sixteen volunteers from the Albuquerque, N.M., Regional Office supported an Aerospace booth at the event, providing demonstrations and engaging with more than 550 kids and their families.
In 2021, the Albuquerque Regional Office STEM (Science Technology Engineering & Math) and Community Outreach Team continued their partnership with the University of New Mexico Health Sciences' STEM-H (Science, Technology, Engineering, Math and Health) Center Office for Diversity, Equity, and Inclusion, and worked to broaden the reach of their STEM activities to engage schools across the state, half of which are in communities under-represented in science and engineering. The team was able to sponsor three Aerospace awards at three different STEM events in 2022, creating more opportunities for students to be recognized for their achievements.
The Albuquerque Regional Office STEM and Community Outreach Team also collaborated with the STEM-H center for the "Careers in the Aerospace Industry" STEM Panel. The panel featured six engineers from Aerospace who represented a variety of backgrounds, offering insight and advice to students on pursuing and navigating career paths in the STEM fields.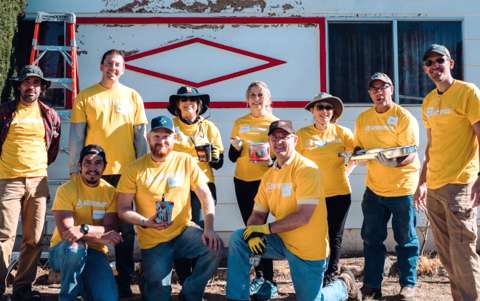 In Huntsville, Ala., our employees are deepening their connections, contributing locally, and more. Employees have delivered more than 250 lbs. of food products and provided more than 130 meals for the North Alabama Food Bank. Because of Aerospace's commitment to giving back, our employees were given a tour of the facility and learned more about how their donations were used to help those in their community struggling with food insecurity.
The Huntsville team also participated in a STEM event at a local library in Triana, Ala., in June. At the event, Aerospace volunteers handed out swag and provided hands-on STEM activities for students ranging from elementary school to middle school. Together with our volunteers, students learned how to assemble battery-powered light kits and mobile robots. By working with students and guiding them through the process, our volunteers were able to build students' confidence and help improve their engineering skills.
In Colorado Springs, Colo., our team has spent hundreds of hours giving back to their community. Aerospace's Scott McLean has volunteered his time to mentoring and coaching a local FIRST Robotics team, teaching students the principals of engineering and helping them prepare for and coach them through their competitions. As one of the sponsors of the team, Aerospace is ensuring they have access to the tools they need to build their robot, and helping the students gain hands-on experience with engineering and see their designs and hard work come to fruition.
Aerospace employees have shown great dedication to giving back in a variety of ways. Through utilizing their time and talents though STEM outreach, to lending helping hands, they are always enthusiastic to help those who need it most. Despite COVID-19 restrictions, our volunteers across the country rallied and expanded their outreach efforts, showing immense dedication to giving back, connecting with industry and the community to create meaningful impacts.