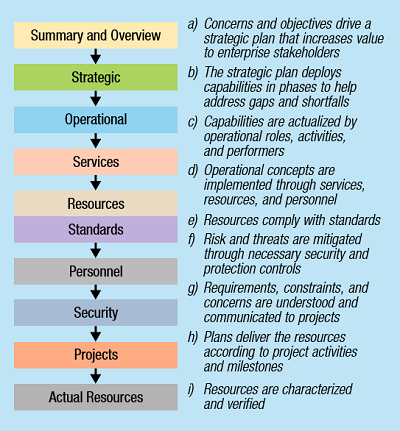 The Unified Architecture Framework (UAF) published by the Object Management Group (OMG) defines a complete set of stakeholder domains as the basis for creating the variety of necessary architecture views of an enterprise, as well as the systems that make up the enterprise. These domains allow for a logical and systematic flow of architecting activities:
UAF is a successor to the DOD Architecture Framework (DODAF) and will automatically create DODAF-compliant architecture views as well as a few dozen other useful views. The UAF specification consists of three main components. The Domain Metamodel (DMM) establishes the underlying foundational modeling constructs to be used in modeling an enterprise, as well as major entities within the enterprise. View specifications provide direction to the tool vendors and to those who are creating the architecture views regarding which DMM elements are pertinent to those views. The UAF Profile (UAFP) is an implementation of the DMM that specifies how the UAF views can be modeled using SysML notation.
The UAF grid (Figure 2) has rows that represent typical stakeholder domains (or perspectives) that can be used when modeling an enterprise architecture. The grid has columns that represent the architecture aspects (in UAF these are called model kinds) that correspond to "part of an entity's character or nature (e.g. structural and behavioral aspects)". [42010 2021]. This grid is provided in the UAF standard as a structuring formalism for organizing the 71 view specifications defined within the UAF.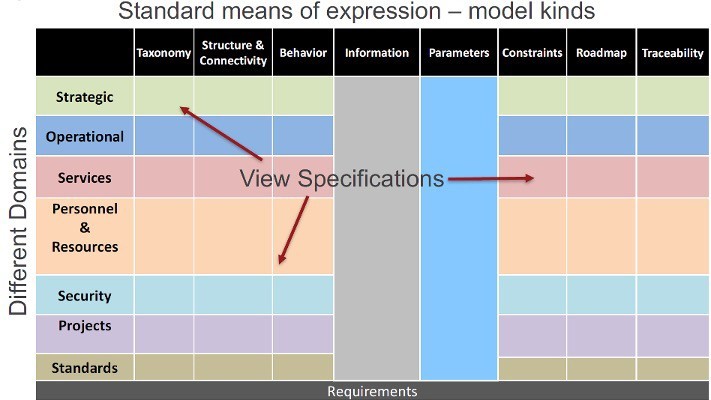 To help facilitate use of the UAF, an Enterprise Architecture Guide for UAF is being developed that provides a generalized workflow to implement these architecting activities. Each step in the workflow conveys the architecture information to iteratively produce a definition of the problem space along with a definition of the solution space (i.e., implementation and instantiation). Trade-offs are identified along the way and architectural decisions are captured in the architecture views as they are fleshed out.