Model-Based Systems Engineering (MBSE) has been successfully breaking ground in systems engineering for all aspects of an ever-increasing complex space enterprise lifecycle. Mission assurance for space systems and flight worthiness for airborne systems are no exception. Model Based Mission Assurance/Flight Worthiness (MBMA/FW) paves the way for the conduct of rigorous mission assurance in a digital engineering (DE) environment. The concept of MBMA/FW is to leverage descriptive models to conduct MA/FW tasks that are large in number, require acute specificity, and may be automated.
The Daytime Atmospheric and Ionospheric Limb Imager (DAILI) is based on a 6U CubeSat that has a two-year build time. Its primary mission is to measure the daytime thermospheric oxygen densities and ionospheric densities at high brightness conditions. This new mission required significant changes to the standard AeroCube architecture and operating systems, including AeroCube mission assurance.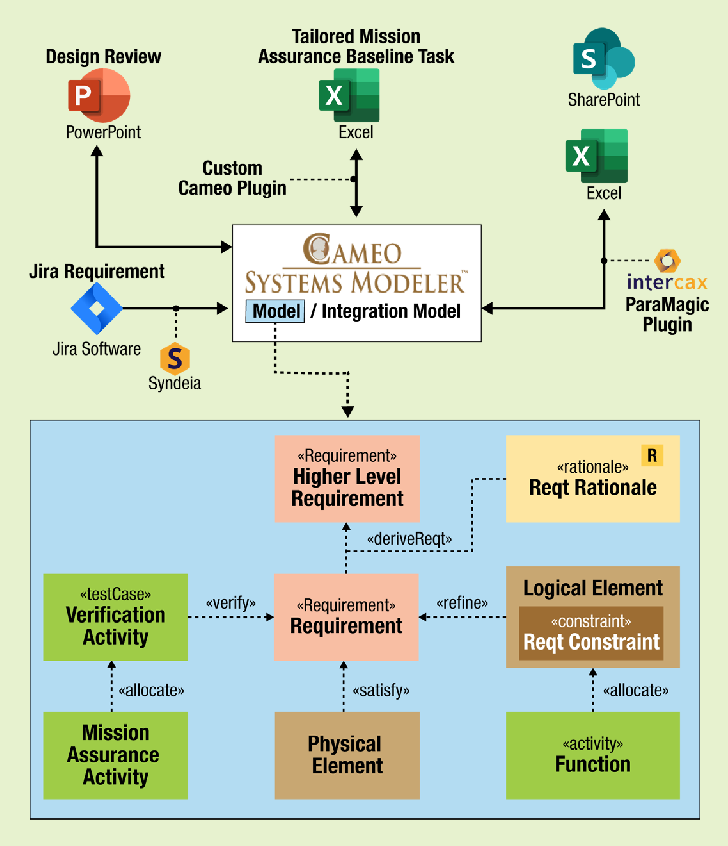 The MBMA team went to work updating the AeroCube MBSE models and implemented key mission assurance processes in the systems modeling environment:
Requirements verification and verification activity allocations throughout the design, build, and test phases of the CubeSat project
Instantiation of a software and model architecture for MBMA using Cameo Systems Modeler™, Syndeia and JIRA® (also a precursor to an enterprise mission assurance digital engineering framework)
Modular implementation of model stereotypes for tailored risk assessment and management, as well as mitigation plan identification and responsibilities.
MBMA proved to be beneficial in identifying risks and gaps in requirement verification using enhanced descriptive models.
These models can be utilized and tailored for any future AeroCube iteration.
In coordination with launch and the systems engineering teams, the MBMA team explored what it takes to update current enterprise mission assurance processes to accommodate a faster production cadence in a DE environment.
The teams conducted a pathfinder to determine scalable solutions for every launch verification activity. These solutions involve a combination of MBSE, software engineering, and engineering informatics.
The MBMA work showcased here provides a roadmap for agile digital mission assurance aimed for mission success.