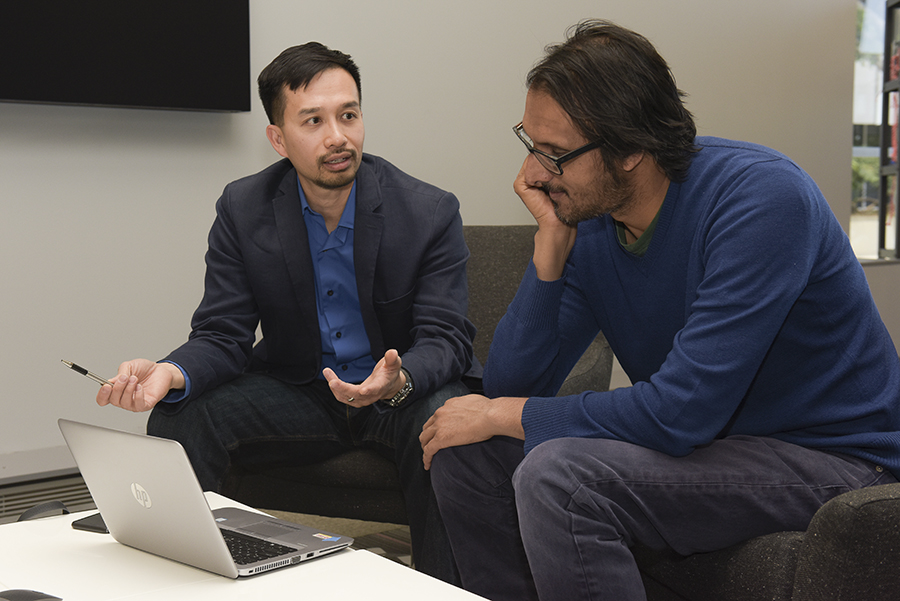 Aerospace's SeedTECH AI team is one of 59 teams out of the original field of 147 teams selected to advance to the second round of this prestigious competition. "We're thrilled that Aerospace's all-volunteer team progressed to the second stage of the IBM Watson AI XPRIZE competition, said Dr. Sherrie Zacharius, vice president of Technology and Laboratory Operations and corporate sponsor of Aerospace's SeedTECH community of interest. "The SeedTECH AI team is not the only experts developing AI at Aerospace. Through the iLAB, Aerospace's newly established research and innovation focus, AI and other machine learning techniques are being applied towards challenging problems in national security space and beyond."
Of the 59 teams continuing on to the second round, SeedTECH AI is the only team that will be focusing on artificial general intelligence, which mimics the reasoning and problem solving skills of a human being.
"We are looking to design a robust AI system that can dream," said Dr. Terence Yeoh, SeedTECH AI team lead. "The AI would take in a limited set of information to make predictions of the most probable—as well as the most beneficial—outcome."
Yeoh added that his team will focus on making major breakthroughs that will benefit the greater good for humanity.
"We are going to focus on changing the 'A' in AI to represent 'Altruistic Intelligence.' There are outcomes that are the most beneficial for all parties involved, but they are often low-probability. By understanding what is needed for us to get to those long shots, we can tip the scales and influence our systems toward that greater good. We want to utilize AI to show us how to enable that dream that we all have—to benefit all of society, not just a select few."
For example, one of the conceptual applications for the SeedTECH dreaming AI is to employ resourceful algorithms to resolve a complex negotiation between multiple parties—such as a business transaction or international treaty—that results in an optimal agreement that benefits all sides. As Yeoh explained, each side in a negotiation typically acts to negotiate the best outcome for itself at the expense of other parties. However, by working to maximize its own interests, each party not only diminishes the benefits to its negotiating partners, but could cause a stalemate or scuttle any deal's prospects altogether. The SeedTECH dreaming AI would recommend the best set of mutually beneficial solutions to all parties and provide an altruistic framework with universal benefits to all.
The IBM Watson AI XPRIZE is a four-year competition with annual milestone competitions in 2017 and 2018. There will be two subsequent rounds of selection each fall in 2018 and 2019, and the competition will culminate in three finalists participating in the Grand Prize competition on the TED2020 stage in front of a live in-person and online audience. Teams will be judged based on the standards they set in their plans, as well as the performance and scalability of their AI application, with the heaviest weight placed on the potential for solutions to achieve an exponential impact.
A $3M Grand Prize, $1M Second Place prize and $500K Third Place prize will be awarded to the teams that receive the top scores, with the final winner determined based on the results of the live in-person and online audience voting during TED2020. Additionally, $500K Milestone Prizes will be awarded to 10 teams in 2018 and 2019.
About SeedTECH
SeedTECH is an after-hours community of interest consisting of employees from The Aerospace Corporation. The team of engineers and scientists volunteer their time to develop technology that is aligned with the company's current and future interests. The SeedTECH AI team brings together the best of Aerospace's interdisciplinary expertise and commitment to technical leadership as the "architect engineers" for its customers. The team is known for surmounting challenges that range from the clandestine to commercial, and apply these unique insights towards greater challenges that define and shape humanity today.
About The Aerospace Corporation
The Aerospace Corporation is a nonprofit corporation that operates a federally funded research and development center (FFRDC) for the United States Air Force. With expertise that encompasses the entire space domain, as well as non-space areas, Aerospace responds with agility to challenges posed by complex, technology-based projects and delivers innovative solutions that assure mission success. The Aerospace Corporation is headquartered in El Segundo, Calif., with multiple locations across the United States.
For more information, visit www.aerospace.org. Follow us on Twitter: @AerospaceCorp.
###
Media Inquiries
Media Relations
Corporate Communications and Public Affairs Division