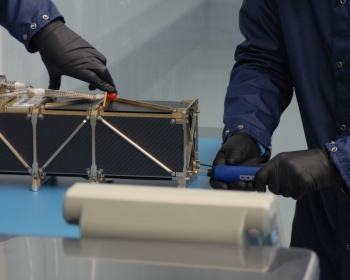 Rocket Lab's small satellite launcher, Electron, successfully launched R3 on Dec. 16 at 7:33 p.m. New Zealand time (10:33 p.m. PST Dec. 15), from its New Zealand's Māhia Peninsula launch site.
R3 is an experiment in smallsat low Earth orbit (LEO) technologies that will focus on faster development of new prototype concepts at lower costs.
"Our Innovation Lab (iLab) supported the development of this new technology in half the time it takes to build larger systems," said Dr. Randy Villahermosa, executive director of iLab. "R3 is two percent of the size of larger spacecraft and three percent of the cost of larger satellites. Our plan is to experiment with several off-board artificial intelligence (AI) technologies that will be critical to creating future space capabilities and building resilient architectures. For example, automated image processing and feature-flagging using AI."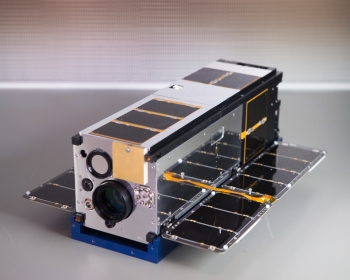 R3 is exploring the edge of the possible in smallsat capabilities in remote monitoring of vegetative health that has previously only been performed by traditional larger spacecraft. R3 will provide remote sensing operations for AI training and a multi-spectral imager to capture images from space. Transmission of those images will be delivered through a 200 Mbit/sec. laser communications downlink as successfully demonstrated in AeroCube-7 as part of NASA's Optical Communications and Sensor Demonstration (OCSD) mission. Aerospace's innovative smallsat laser technology provides space-to-ground communications that is 100 times the rate than any other current CubeSat on orbit – a major milestone in capabilities that is normally performed by larger satellites.
"R3 is just one example of our innovation strategy to develop new capabilities in the lab that can be tested quickly on CubeSats to buy down risk in future operational systems," said Villahermosa. "The space industry has entered a new era in which venture-class rockets will enable responsive launch of smallsats to rapidly develop proliferated architectures in the future."
About The Aerospace Corporation
The Aerospace Corporation is a national nonprofit corporation that operates a federally funded research and development center and has more than 4,600 employees. With major locations in El Segundo, California; Albuquerque, New Mexico; Colorado Springs, Colorado; and the Washington, D.C. region, Aerospace addresses complex problems across the space enterprise and other areas of national and international significance through agility, innovation, and objective technical leadership. For more information, visit www.aerospace.org. Follow us on X: @AerospaceCorp.
Media Inquiries
Media Relations
Corporate Communications and Public Affairs Division