This mission focuses on two significant capabilities of value for future small spacecraft missions: high-speed optical transmission of data and proximity operations between two small satellites–both capabilities not previously demonstrated in spacecraft of this size.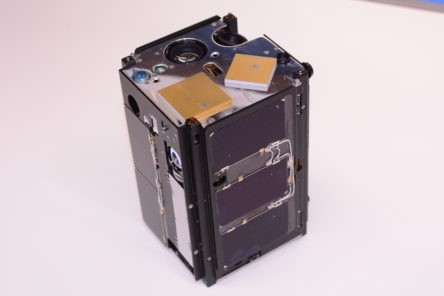 "Our primary mission for OCSD is to demonstrate laser communications by using a laser on the spacecraft to downlink data to our optical ground station on Mt. Wilson in California," said Richard Welle, Aerospace senior scientist and one of the principal investigators for OCSD. "This is the first CubeSat laser communications system that will demonstrate an optical downlink. This compact laser package with its potential for much higher rates proves a promising future for CubeSat-scale laser communications."
Welle notes that each spacecraft is equipped with ultra-small star trackers, critical for precision pointing of the laser communications hardware–the laser is hard-mounted to the individual CubeSat body, with the beam pointed by controlling the orientation of the entire spacecraft.
"This innovative approach, combined with expected improvements in attitude control, will eventually enable CubeSats to downlink data at rates in excess of 1 gigabit per second," said Welle. "The precision attitude control system in OCSD is expected to enable pointing to an accuracy of better than .05 degrees, supporting 200 megabits-per-second downlinks."
The second OCSD mission, proximity operations, will involve the two satellites approaching and maneuvering around one another, within a range of 200 to 2000 meters. Welle adds that the operations will involve relative position measurements using cameras, beacons, laser rangefinders, and relative maneuvering using variable drag and propulsion.
The novel propulsion system on OCSD uses water as a propellant, which is exhausted as steam. Capabilities in proximity operations will enable multiple small spacecraft to operate cooperatively during future scientific or space exploration missions.
Also included in this launch is the Cubesat Multispectral Observation System (CUMULOS), an experimental remote-sensing payload developed by Aerospace, which flies on the NASA Jet Propulsion Laboratory Integrated Solar Array and Reflectarray Antenna (ISARA) CubeSat mission. CUMULOS is a compact, 3-camera system that will study the utility of passively cooled commercial infrared cameras for weather and environmental monitoring missions. CUMULOS is composed of a visible wavelength camera, a short-wavelength infrared camera, and a long-wavelength infrared, microbolometer camera.
About Aerospace CubeSats
Researchers at The Aerospace Corporation have pioneered the development of nanosatellites (1–10 kilograms) and picosatellites (0.1–1 kilograms) for the past two decades. These technologies can save money while increasing accessibility to space. Aerospace's development program in miniature satellites began in 1992, and the flight program in 1999. Aerospace flew a pair of 250-gram picosatellites in 2000 that measured just 1 x 3 x 4 inches. Up until 2013, these spacecrafts were the smallest active satellites ever flown.
Since 1999, Aerospace has flown 29 nano- and picosatellites, with four more scheduled to launch in 2018. Aerospace is currently operating 10 CubeSats, called AeroCubes, in orbit.
About The Aerospace Corporation
The Aerospace Corporation is a nonprofit corporation that operates a federally funded research and development center (FFRDC) for the United States Air Force. With expertise that encompasses the entire space domain, as well as non-space areas, Aerospace responds with agility to challenges posed by complex, technology-based projects and delivers innovative solutions that assure mission success. The Aerospace Corporation is headquartered in El Segundo, Calif., with multiple locations across the United States.
For more information, visit www.aerospace.org. Follow us on Twitter: @AerospaceCorp.
###
Media Inquiries
Media Relations
Corporate Communications and Public Affairs Division