The mission, called LLITED (Low-Latitude Ionosphere/Thermosphere Enhancements in Density), will investigate the equatorial temperature and wind anomaly (ETWA) that occurs in the neutral atmosphere, and the equatorial ionization anomaly (EIA) that occurs in the region containing charged particles. Traditionally, these features occur between approximately 300 to 500 km and have been observed separately from different satellites or from multiple ground observations. The altitude region of the ETWA and EIA is poorly understood as compared to other regions of the Earth's upper atmosphere. Further, it is at these altitudes that drag on satellites increases, impacting the re-entry rate. Drag is dependent on the atmosphere density, so by better understanding changes in density within the region, we can better predict an object's re-entry path. The two CubeSats are expected to launch late 2019/early 2020.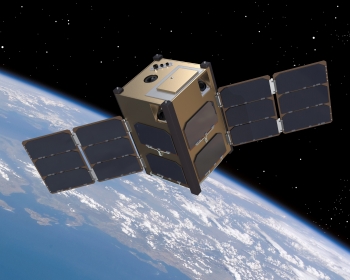 "We are pleased that Aerospace's LLITED CubeSat mission was selected by NASA to observe both upper atmosphere nighttime features for the first time from a single satellite," said Dr. Sherrie Zacharius, vice president of Technology and Laboratory Operations. "By flying two separated CubeSats, we will further expand our understanding of their spatial and temporal structures. We will also improve our knowledge of the upper atmosphere environment and the tools and methods developed along the way will allow us to better assist our customers."
Dr. Rebecca Bishop, principal investigator for the LLITED mission, along with the Aerospace SmallSat group, will design and build two identical 1.5U CubeSats that will each carry three instruments: an ionization gauge and GPS radio-occultation sensor provided by Aerospace, and a planar ion probe provided by Embry-Riddle Aeronautical University in Florida. Both CubeSats will fly in the same orbit plane at an altitude between 350 and 450 km, but the two CubeSats will be spaced 1/4- to 1/2-orbit apart in order to observe the spatial and temporal changes of the ETWA and EIA.
"There are two unusual nighttime phenomena that occur in the ionosphere/thermosphere on either side of the equator," said Bishop. "One displays an increase in neutral atmosphere temperature and changes in winds near midnight, and the other shows an increase in the ionospheric plasma density almost at the same time."
Bishop emphasized that the LLITED mission's contribution will improve understanding of the nighttime upper atmosphere and addresses one of the key science goals identified in NASA's Heliophysics Decadal Survey.
"The key is to better understand how the ETWA and EIA form and interact, which can then be used to improve upper atmosphere models, which in turn may improve our ability to predict satellite re-entry and improve collision avoidance at these altitudes."
Aerospace has more than 80 specialized laboratories used to test, analyze, and troubleshoot virtually every aspect of rocket and satellite system design, development, construction, deployment, and operation. The success of Aerospace research comes from the diverse and wide-ranging expertise of the laboratories' technical staff and their ability to stay abreast of new technological advancements and program support issues associated with rapidly evolving space systems.
About The Aerospace Corporation
The Aerospace Corporation is a national nonprofit corporation that operates a federally funded research and development center and has more than 4,600 employees. With major locations in El Segundo, California; Albuquerque, New Mexico; Colorado Springs, Colorado; and the Washington, D.C. region, Aerospace addresses complex problems across the space enterprise and other areas of national and international significance through agility, innovation, and objective technical leadership. For more information, visit www.aerospace.org. Follow us on X: @AerospaceCorp.
Media Inquiries
Media Relations
Corporate Communications and Public Affairs Division