Live on Green! 
(December 25-January 1)
Eighteen volunteers from The Aerospace Corporation joined with the Space and Missile Systems Center (SMC) to pay tribute to space exploration in this winter family festival, which took place during the iconic Rose Parade and Rose Bowl Game. We demonstrated our space debris modeling data, let visitors touch real space junk, and had people guess when they thought the Chinese space station Tiangong-1 would plummet back to Earth.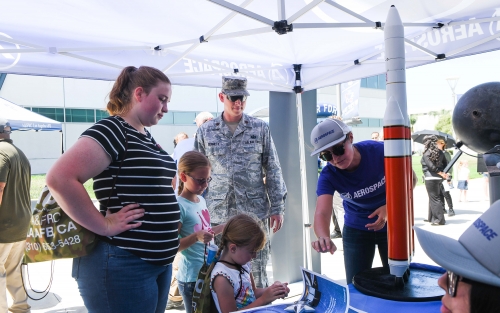 Armed Forces Day Celebration
(May 18-20)
Aerospace teamed with SMC to participate in the 59th annual celebration of our military in Torrance, CA. Forty-three Aerospace employees ran the Armed Forces Day 5K For Freedom. We also hosted a kids' booth with games and giveaways that illustrated our commitment to STEM education.
Los Angeles Fleet Week
(August 31-September 3)
Aerospace volunteers and SMC joined forces at Fleet Week's STEM Village to inspire the next generation of students to pursue a STEM career. Our volunteers helped students launch more than 800 straw rockets, and handed out a record amount of rocket-related regalia.