They call it the mohawk. A pair of curved metal fins, each sporting a dozen laser diodes, that collectively are capable of blasting 800 watts of light bright enough to be seen by spacecraft passing overhead.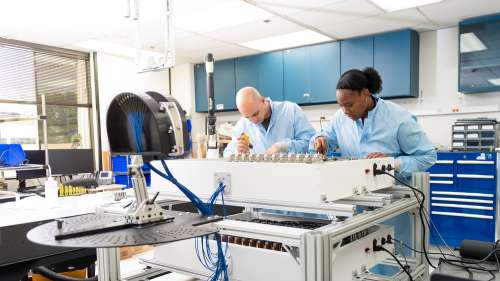 The durable, heat-controlled beacon can be mounted to a trailer that allows for mobile deployment wherever it's needed for calibration and validation of space assets.
And when you're dealing with that much power, there's bound to be lots of heat, which could hurt the performance and lifespan of the beacon if left unaddressed.
That challenge led a team of Aerospace engineers to come up with a novel approach using an array of off-the-shelf parts to create a beacon that meets the mission specifications in a cost-effective – and quickly manufacturable – manner.
"It's like a spotlight," said Dan Mabry, director of xLab's Electrical and Software Engineering department. "The idea was to make this cheap so if they want another one and another one, we can do it fast."
Utilizing rapid prototyping techniques, the Aerospace team took the initial concept from design to production in just three months, with the initial beacon delivered to the government customer last fall.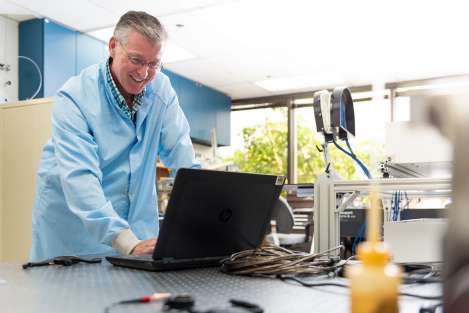 The beacon incorporates a number of commercial parts, including the chiller, lasers and the power supplies, all driven by a gas generator. When assembled, the device consists of two trays of electronics and mechanical subsystems, as well as the laser emitter, weighing a total of more than 300 pounds. 
The end result is a portable tool capable of emitting a cloud of laser light bright enough to blind anyone standing too close without the proper eye protection, which is just the amount needed to be seen from space.
"We made this into a platform so that if it's moving or even moving fast, it can be picked up," Mabry said of the laser light emitted by the device. "We provide all the tools [the customer] needs and the safety precautions to make sure no one gets hurt. Then they do what they do."