February 18, 2021 will stand as a major milestone within one of the most exciting eras in space history.
On that date, the Mars 2020 Perseverance Rover finally touched down in the Jezero Crater on Mars, completing a 292.5-million-mile journey that started seven months prior on an Atlas V rocket launched from Cape Canaveral, Florida. Perseverance's flight featured three maneuvers and an impressive autonomous entry, descent, and landing (EDL) upon arrival at the Red Planet, where it is now searching for signs of past life.
The Aerospace Corporation is proud to have contributed to this unprecedented achievement and congratulates NASA, NASA's Jet Propulsion Laboratory and the entire Perseverance team on this historic feat. "On behalf of all of us at Aerospace, I heartily congratulate NASA, Jet Propulsion Laboratory (JPL) and the entire Perseverance mission team on this historic feat. They fully embodied humanity's intrepid spirit at a definitive moment in our history in space," said Ed Swallow, Senior Vice President of the Civil Systems Group.
Throughout Perseverance's development life cycle, Aerospace provided direct support to NASA's Jet Propulsion Laboratory (JPL) and NASA's Launch Services Program (LSP), and programmatic support to NASA Headquarters (HQ), including project verification and validation, launch support, vehicle separation simulations, reliability predictions, resiliency testing, and several other key activities. Aerospace's tribology team also performed a critical lubrication evaluation in July 2020 using unique laboratory equipment to simulate harsh Martian conditions.
"It was an incredible opportunity to get to work on something that is now on another planet," said Dr. Aimee Hubble, Project Leader in Aerospace's Research and Technology Collaboration Office.
While drawing upon significant heritage from the Mars Curiosity mission, which has been operating on Mars since 2012, the Perseverance mission will make new scientific discoveries and serve as the first in a series of missions comprising the Mars Sample Return (MSR) campaign. Furthermore, Perseverance will demonstrate a new technology by performing the first powered flight on Mars with Ingenuity, a small helicopter designed to prove out the technologies that will allow helicopters to provide aerial surveillance on future Mars missions.  
The Perseverance mission has taken critical steps toward returning Martian rock and soil samples to Earth for future analysis. "Aerospace teams supported the specific group that was developing the Sample and Caching System (SCS), which will eventually prepare samples for the return of rock and regolith from the Mars surface," said Dr. Meg Abraham, Aerospace Senior Project Leader in Systems Formulation and Implementation. "It was a wonderful experience."
"Getting samples back from Mars is one of the 'Holy Grail' missions of space exploration that has not yet been performed," added Eric Mahr, Senior Project Leader in Aerospace's Strategic Assessments and Studies Division.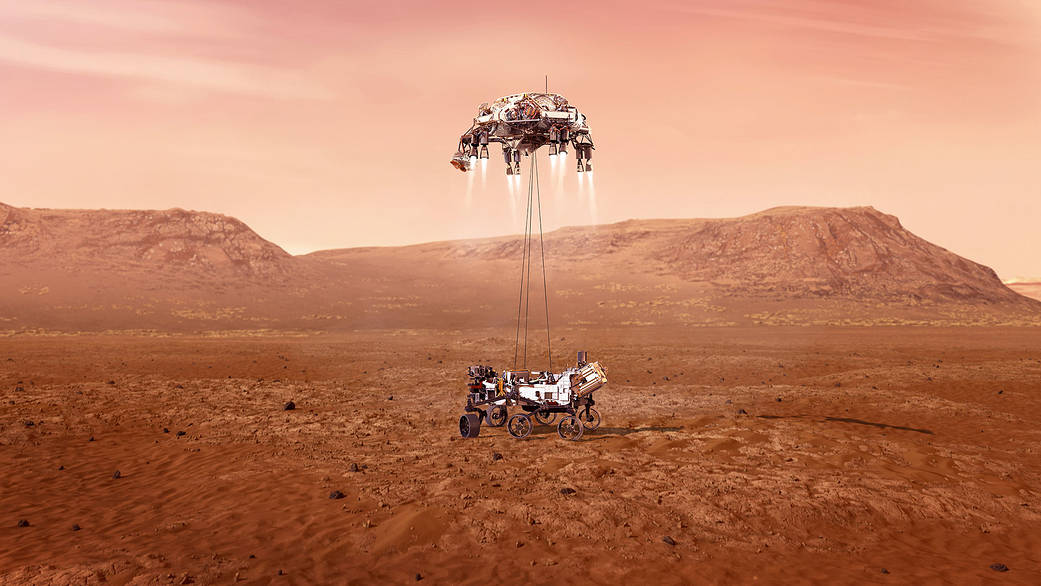 Perseverance proved an apt name for a mission that sustained activity and progress throughout the COVID-19 pandemic, launching and landing safely and on time. "I was inspired by the dedication of the entire Perseverance team to power ahead through the initial uncertainty to achieve an on-schedule launch and a successful landing on Mars," said Dr. James Kaufman, Senior Project Engineer supporting Aerospace's Civil Space Programs Operations Division.
The significant achievements by the Perseverance team – and their pursuit of more groundbreaking milestones throughout this unprecedented Mars mission – serve as inspiration for the future of space exploration. Aerospace stands ready to continue supporting our customers – to Mars, the Moon or beyond.