In honor of Engineers Week, Aerospace is spotlighting a few of our many great engineers and getting a peek at the exciting projects that they're focused on. Keep checking back to Meet Our People all this week!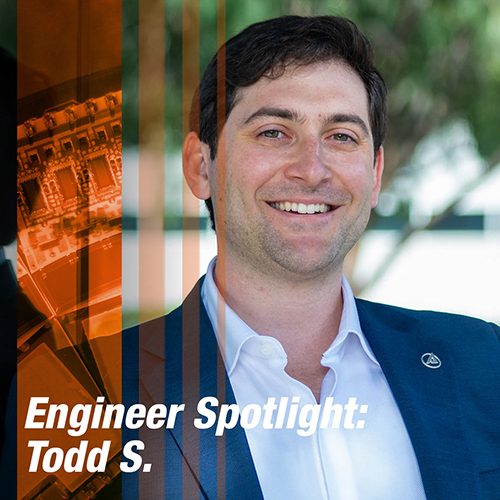 Name: Todd
Alma Mater: M.S. and Ph.D. in Aeronautics and Astronautics, Massachusetts Institute of Technology; B.A. in Physics, Harvard University
Department: Vehicle Design and Innovation Department
Can you tell us about the work you do here at The Aerospace Corporation?
I joined Aerospace this past August 2019 as a spacecraft systems engineer in the Vehicle Design and Innovation Department (VDID) and as an Innovator in Residence in the iLab. I split my time between developing future space vehicle concepts in VDID and managing Ventures R&D projects in the iLab, where I've been focusing on next-generation concepts for space robotics among other space mission areas.
Who or what inspires you? Why?
My parents! The older I grow, the more I appreciate their sacrifice and dedication that allowed me and my sister to have more opportunities to succeed than they ever had growing up. Their example inspires me to be disciplined and conscientious with my efforts, both as an engineer and scientist, but also as a person engaging with those around me.
When was the moment you realized that you wanted to make this your career?
I remember feeling helpless when considering my career path as an undergrad: how could I choose just one field, when there was so much to discover and create in this world? At the time, I was studying physics and philosophy, but I longed for something more tangible. When I realized that I could bring together my interests in science, engineering, and the liberal arts as an aerospace engineer, and when I realized that the same career path might allow me to create new opportunities for humanity to engage with the world and to explore the skies and cosmos beyond, I knew I had found my dream job.
What work outside of your own department is Aerospace doing that excites you the most?
That's not a fair question! One of the reasons I feel so lucky to be at Aerospace is that I know it is rare to find an organization with such a broad and deep set of programs, research, and fundamental science cutting across the entire space enterprise. It's hard not to feel like a kid in a candy shop when considering what's happening in the Physical Science Labs, in the iLab and xLab, and in all the programs across the company that are directly supporting commercial, civil, and defense sectors.
Why did you choose to work at Aerospace?
After completing my Ph.D., I wanted to find a role that empowered me to be creative and to make an impact. I also wanted to be exposed to a broad set of programs that could shed light on how successful spaceflight programs are conceived, developed, and operated across the space enterprise. What attracted me to Aerospace wasn't just the fact that I could find these opportunities, but that I would also be surrounded by world-class expertise and unparalleled working knowledge. If all this didn't already convince me, Aerospace also promised a view of a process and structure developed over decades to handle the pressure of assuring success for the nation's most critical missions. In the end, then, my choice was simple.
What advice would you give to an engineer joining The Aerospace Corporation?
Find opportunities to talk to subject matter experts outside of your own area of expertise! The more I've spoken with others in the organization, the more I learn about the amazing work being done, and the more exposure I get to programs that might be of interest to me. In my experience, there is a culture here in which we are encouraged to seek opportunities aligned with our passions, so don't be afraid to go outside of your comfort zone – you never know what you might find!
If you're interested in joining the Aerospace team, be sure to visit our careers page.