In honor of Engineers Week, Aerospace is spotlighting a few of our many great engineers and getting a peek at the exciting projects that they're focused on. Keep checking back to Meet Our People all this week!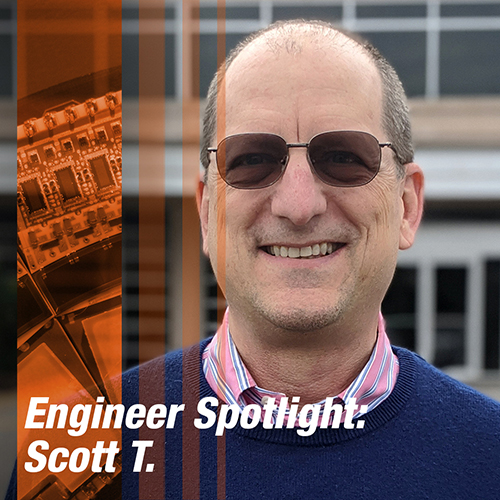 Name: Scott
Alma Mater: B.S. from Washington University in St. Louis, M.S. and Ph.D. from UCLA
Department: Software Systems & Acquisition Dept
Can you tell us about the work you do here at The Aerospace Corporation?
Over the past few years I've had the opportunity to support NOAA as it works to transition to an enterprise ground, leverage the cloud and address other program and technical challenges. I've also supported a variety of customers across the intelligence community, and I've enjoyed being in the unique position to share lessons learned and experience across those two very diverse customers.
When was the moment you realized that you wanted to make this your career?
When I was about 10 years old, I discovered a shelf of science fiction in the Joliet Public Library, and ever since then I've had in my head the dream of space. When the opportunity came to work at Aerospace and be involved in our nation's space programs, I knew it was something that I could spend my life working on.
What work outside of your own department is Aerospace doing that excites you the most?
I think Aerospace's work with CubeSats and the push to get directly involved in flying satellites is very exciting.
Why did you choose to work at Aerospace?
One of the big factors for me was that Aerospace had already attracted other interesting folks from the UCLA graduate schools, and their enthusiasm for the company was a big selling point for me.
What advice would you give to an engineer joining The Aerospace Corporation?
My son, Zeph, joined Aerospace last year. I gave him the same advice I've given to many other Aerospace engineers: If you don't like what you're doing at Aerospace, find something different. Aerospace does an incredible breadth of different work, and uniquely encourages its staff to move around and explore their career options. That's a great feature that you'll rarely find embraced the way it is at Aerospace.
If you're interested in joining the Aerospace team, be sure to visit our careers page.