In honor of Engineers Week, Aerospace is spotlighting a few of our many great engineers and getting a peek at the exciting projects that they're focused on. Keep checking back to Meet Our People all this week!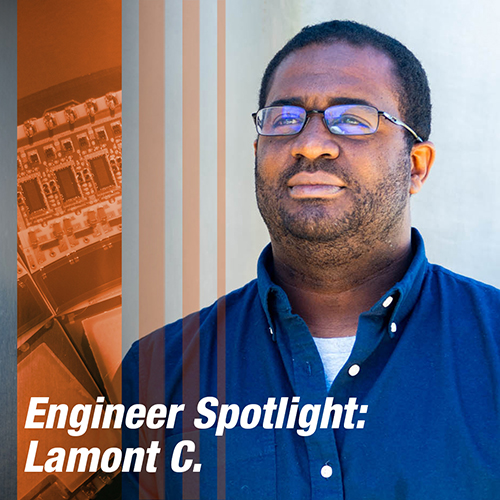 Name: Lamont
Alma Mater: University of Massachusetts at Amherst
Department: Communication Payload Command & Telemetry Department
Can you tell us about the work you do here at The Aerospace Corporation?
I'm working currently system of systems architecture and space system conceptual design studies, TRANSEC analysis, and rapid prototyping development.
Who or what inspires you? Why?
I get my inspiration from my grandfathers, Lawrence Mobley and Ezell Cooper. These individuals inspire me because of the many obstacles they faced with courage a grace. My grandfathers were all leaders within their own right and never allowed any obstacle to stop them, even in the face of adversity.
When was the moment you realized that you wanted to make this your career?
I first realized that I wanted to be an engineer when I completed a college project that allowed individuals with vision difficulties to read. This project made me realize that I wanted to spend my professional career solving complex communication system problems.
What work outside of your own department is Aerospace doing that excites you the most?
The work outside of my own department that excites me most is working in the conceptual design center and collaborating with other engineers from other disciplines to develop architecture, satellites, and/or communication concepts.
Why did you choose to work at Aerospace?
Initially I chose Aerospace as a means to get back home to Los Angeles from Massachusetts. Once I arrived at Aerospace, the projects and collaborative opportunities afforded me has kept me at the company for twenty-one years and counting.
What advice would you give to an engineer joining The Aerospace Corporation?
My advice to a new engineer would be to not be complacent in one project or department. There are many opportunities here at Aerospace, some that will come to you and others that you will need to seek out, that will allow you to not only participate but contribute to each step of the process.
If you're interested in joining the Aerospace team, be sure to visit our careers page.