In honor of Engineers Week, Aerospace is spotlighting a few of our many great engineers and getting a peek at the exciting projects that they're focused on. Keep checking back to Meet Our People all this week!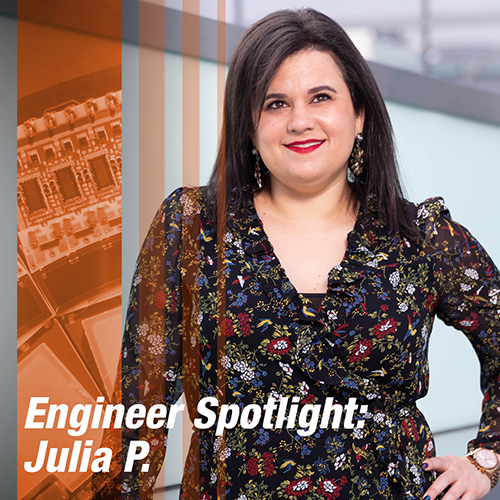 Name: Julia
Alma Mater: B.A. in Geography, University of California, Los Angeles; M.S. in Mathematics, California State University, Northridge
Department: FORGE/Enterprise Ground and Launch Division
Can you tell us about the work you do here at The Aerospace Corporation?
Working on traceability of system requirements, proposal reviews, and model-based systems engineering for a program upgrade.
Who or what inspires you? Why?
The project lead for one of my earliest projects here at Aerospace, who always spoke up when something wasn't right, was a technical expert who constantly continued learning, and who connected with the team on a personal level.
When was the moment you realized that you wanted to make this your career?
When I watched October Sky as a kid.
What work outside of your own department is Aerospace doing that excites you the most?
With space getting so crowded and so contested, I think the work that we do on space debris is incredibly important and fascinating work.
Why did you choose to work at Aerospace?
I am inspired by the ability to chart your own career path.
What advice would you give to an engineer joining The Aerospace Corporation?
Find yourself a mentor, and get involved in an Employee Resource Group (ERG) or a club!
If you're interested in joining the Aerospace team, be sure to visit our careers page.