In honor of Engineers Week, Aerospace is spotlighting a few of our many great engineers and getting a peek at the exciting projects that they're focused on. Keep checking back to Meet Our People all this week!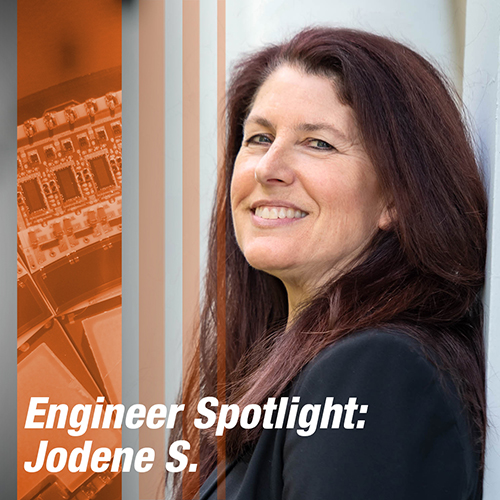 Name: Jodene
Alma Mater: B.S. and M.S. in Computer Science, Loyola Marymount University
Department: Software Systems & Acquisition Dept/Information Systems & Cyber Division
Can you tell us about the work you do here at The Aerospace Corporation?
I work in the Software Systems & Acquisition Department where I provide software lifecycle expertise and technical consulting to the program offices on software development practices, such as Agile, DevSecOps and Waterfall. Additionally, I provide Agile mentoring and training to others in the company that are interested in the Agile methodology and DevSecOps.
Who or what inspires you? Why?
It may sound corny but I am inspired by all the people I've had the good fortune to work with throughout my career. The lessons I've learned, both good and bad, from all of them has positively shaped and enriched my career.
When was the moment you realized that you wanted to make this your career?
When I went to university, I had no idea what I wanted to do other than I was good at math so I chose Computer Science (playing to my strengths). Then I went to TRW and my dreams came true. I knew at that moment that this is where I was meant to be. I traveled to other companies, gaining valuable experiences and perspectives, and am now fortunate to be back in the defense industry here at Aerospace. It's the cherry on top of my career!
What work outside of your own department is Aerospace doing that excites you the most?
The CubeSats are incredible! I volunteered for Aerospace at a high school STEM night and we had an AeroCube mock on display for the students and parents. It was so cool! I'm truly amazed at the capabilities we can put on a CubeSat.
Why did you choose to work at Aerospace?
A former colleague contacted me about working at Aerospace. When I heard about the Agile transformation underway at Aerospace and SMC, I knew this was the place to be. It was a great opportunity and challenge for me to bring my Agile industry experience to the company and the Air Force.
What advice would you give to an engineer joining The Aerospace Corporation?
Learn the big picture. Understand how your work contributes to the end product that, in turn, supports the warfighter. Be open to all opportunities and challenges and take each difficulty you may encounter and learn from it!
If you're interested in joining the Aerospace team, be sure to visit our careers page.