In honor of Engineers Week, Aerospace is spotlighting a few of our many great engineers and getting a peek at the exciting projects that they're focused on. Keep checking back to Meet Our People all this week!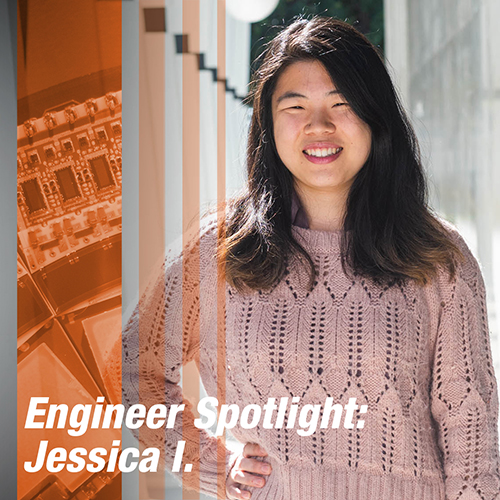 Name: Jessica I.
Alma Mater: Harvey Mudd College, University of California, Los Angeles
Department: Digital Communication Implementation Department
Can you tell us about the work you do here at The Aerospace Corporation?
I work on software-defined radios in the Digital Communications Implementation Department. I design receivers in software and FPGAs and I work on designing, simulating, and prototyping various communication systems. I have worked on projects building GPS receivers and communication systems in Aerospace's PicoSats.
Who or what inspires you? Why?
I don't have a specific role model who inspires me but I am inspired by all the women in STEM who have come before me and paved the way for women engineers. We still obviously have a lot of work to do to get more girls to pursue engineering, but I am inspired to work hard and advance my career to show young girls they can do the same.
When was the moment you realized that you wanted to make this your career?
In my undergraduate, we worked on junior and senior design projects for companies from industry. Not only was working on these projects fun and engaging, but it was cool to see how much we could get done as a small team of students and to know that we were solving real world problems. This experience inspired me to become an electrical engineer so I could use my strengths to solve real world problems.
What work outside of your own department is Aerospace doing that excites you the most?
The work that iLab does sounds really interesting and exciting. I think it is great that Aerospace does research and development work and can work on cutting edge technologies such as machine learning.
Why did you choose to work at Aerospace?
I chose Aerospace because I liked the research and development environment of my department. I enjoy working on several different projects at a time, which allows me to work on projects within my expertise as well as learn new skills. The people here are great and always willing to help, and I like that we are encouraged to fully understand a problem and solve it the right way instead of rushing to get it done.
What advice would you give to an engineer joining The Aerospace Corporation?
Take advantage of all of the resources Aerospace has to offer – training, education reimbursement, and all of the smart people working here. Aerospace is full of Ph.D.s and specialists in all sorts of fields and everyone is friendly and willing to help, so don't be afraid to ask questions.
If you're interested in joining the Aerospace team, be sure to visit our careers page.