In honor of Engineers Week, Aerospace is spotlighting a few of our many great engineers and getting a peek at the exciting projects that they're focused on. Keep checking back to Meet Our People all this week!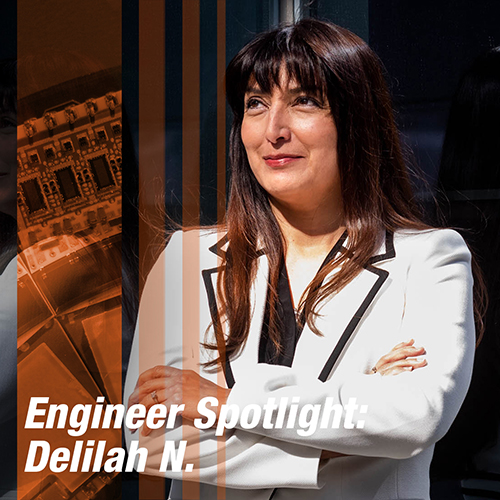 Name: Delilah
Alma Mater: B.S. in Computer Engineering and MBA with Specialization in Information Systems, California State University, Long Beach
Department: ESS Ground and Integration/Space Development Division
Can you tell us about the work you do here at The Aerospace Corporation?
As Systems Director, acting as technical advisor to government leads and supporting staff in support of ground acquisition and associated systems engineering and integration efforts.
Who or what inspires you? Why?
My son who has taught me true unconditional love and inspires me to always do and be better and Mr. P who served as my first of many mentors, who truly set me on my path. He helped me see my true potential and guided the growth of my abilities. I appreciate the value of his wisdom, the generosity of his time, and how it made a difference. Since then, I have been passionate about giving back and helping those along their journeys. Especially that of my son and those pursuing STEM professions who are also "the first to go to college" or who may believe they can't pursue a STEM career.
When was the moment you realized that you wanted to make this your career?
Initially, I wanted to do something related to space. But when someone told me as a college student that I shouldn't consider it at all as a female Hispanic, the more determined I became after asking myself, "Why not?"
What work outside of your own department is Aerospace doing that excites you the most?
I am excited about the work being done with CubeSats. It is certainly an opportunity paving the way for new ways of thinking how we build and deploy satellites while applying emerging technologies. All this creative thinking only inspires innovative concepts and new opportunities.
Why did you choose to work at Aerospace?
When I came as an intern, I was given the opportunity to work on tasks that really had big impacts, even as a student. Plus, the Aero team I got to work with were great mentors. I liked the collaborative culture. So when they offered me a full-time job after I graduated, it was easy to say "yes!"
What advice would you give to an engineer joining The Aerospace Corporation?
I would offer three points of advice:
If any assignments are unclear, ask for clarification instead of proceeding in the wrong direction because you are fearful of looking foolish. Nothing wrong with asking for advice and help from others.
We often work on teams so being receptive to others' input and knowing when to compromise are good steps to successful teams.
Make use of the employee assistance programs, training, clubs, events, and ERGs offered at Aerospace to help find balance. Finding balance between the world of work and your personal and family life can be tough but Aerospace has the resources to help.
If you're interested in joining the Aerospace team, be sure to visit our careers page.