In honor of Engineers Week, Aerospace is spotlighting a few of our many great engineers and getting a peek at the exciting projects that they're focused on. Keep checking back to Meet Our People all this week!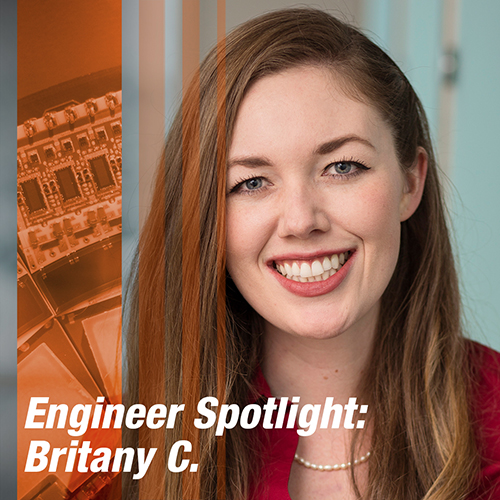 Name: Britany
Alma Mater: B.S. in Mechanical Engineering (minor in Business) and M.S. in Aerospace Engineering, Utah State University – Go Aggies!
Department: Systems Engineering Division/Mission Analysis and Operations Department
Can you tell us about the work you do here at The Aerospace Corporation?
The thing I love about Aerospace is that I'm always working on something new! Most of what I do is modeling, simulation, and analysis, and I'm primarily working on projects in three different areas:
Performing architecture analysis on the current and future capabilities of a ground system network designed to support small satellite missions.
Modeling Unmanned Aerial Systems (UAS) threats to assess the performance and effectiveness of Counter-UAS systems in a wargaming environment.
Using astrodynamics to dig into problems related to satellite formation flying.
Who or what inspires you? Why?
I worked in a rocket propulsion lab all through college, so I got to see and conduct tens (maybe hundreds?) of rocket tests, and it never got old. Seeing rocket launches, even on video, still leaves me awe-struck. I am inspired by displays of engineering ingenuity that showcase the power humans have harnessed. It reminds me to maintain the mentality that no task is too big, and to question the impossible.
When was the moment you realized that you wanted to make this your career?
I never really had that single "ah ha!" moment. I've always been interested in science fiction and space travel, so I knew I wanted to do something related to space. Ultimately, that led me to Aerospace Engineering so I could work hands-on making "spaceships"! As it turns out, there's a limited market for that. But I've found I really enjoy studying orbital mechanics and space systems – every day I'm bringing science fiction closer to reality.
What work outside of your own department is Aerospace doing that excites you the most?
The launch assurance work that Aerospace does is really important. I'm also excited by everything we do that is focused beyond Earth orbit. I wish I were involved with the work on the Lunar Gateway – the new space station that will orbit the moon and enable more extensive exploration. Anything that might further the state of space exploration and tourism tends to hold my interest!
Why did you choose to work at Aerospace?
The work and opportunities at Aerospace are very diverse. I love learning, so the potential to move around from systems engineering, to program office, to engineering lab work, to developing space policy, etc. all within the same company is very appealing.
What advice would you give to an engineer joining The Aerospace Corporation?
Don't underestimate the value of networking! Aerospace's Engineering and Technology Group houses an immense supply of specialists, and the more people you know, the easier it is to find the expertise and answers that you need to succeed.
If you're interested in joining the Aerospace team, be sure to visit our careers page.