In honor of Engineers Week, Aerospace is spotlighting a few of our many great engineers and getting a peek at the exciting projects that they're focused on. Keep checking back to Meet Our People all this week!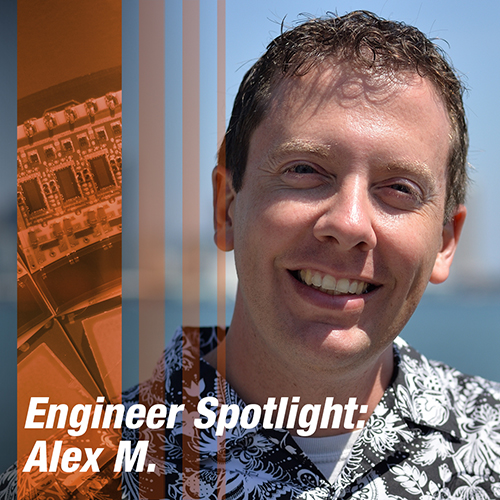 Name: Alex
Alma Mater: B.S. in Aerospace Engineering, University of Kansas; M.S. in Aerospace Engineering, George Washington University
Department: Vehicle Design and Innovation Department
Can you tell us about the work you do here at The Aerospace Corporation?
I provide Engineering and Technology Group (ETG) support to the various customers in the Albuquerque area, primarily with conceptual design and assessments, and other reach-back to experts throughout ETG.
Who or what inspires you? Why?
My family: my wife and two sons. It is rewarding to contribute to the work Aerospace does to keep the nation's space assets working properly, so that we can live safely and securely and expect that for our children in the future.
When was the moment you realized that you wanted to make this your career?
In my first role with Aerospace, I used to support launches on console in the old STARS center, so probably my first day-of-launch support, being able to listen and watch as a space asset embarked on its mission was a moment that I knew I wanted to keep doing this work.
What work is Aerospace doing that excites you the most outside of your own department?
Small launch, and all of the emerging new small launch vehicles, is an area where Aerospace is providing important support.
Why did you choose to work at Aerospace?
Aerospace is in a unique position working with the government and provides an incredible range of work opportunities.
What advice would you give to an engineer joining The Aerospace Corporation?
Build your network: with all of the projects Aerospace is involved with, you will meet experts throughout the corporation, and you never know who you will collaborate with next!
If you're interested in joining the Aerospace team, be sure to visit our careers page.