In honor of Engineers Week, Aerospace is spotlighting a few of our many great engineers and getting a peek at the exciting projects that they're focused on. Keep checking back to Meet Our People all this week!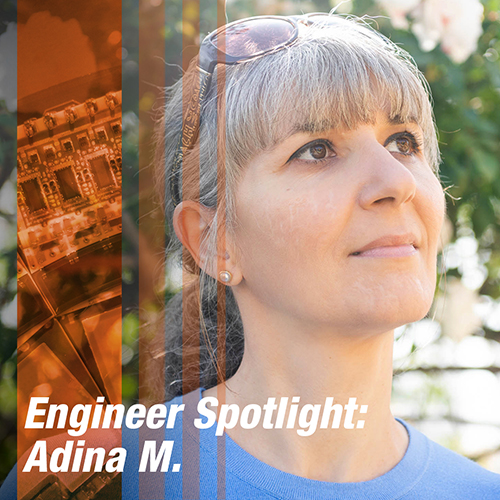 Name: Adina
Alma Mater: University of California, Los Angeles; University of Washington
Department:  Communication Systems Engineering Department
Can you tell us about the work you do here at The Aerospace Corporation?
I work in the Communication Systems Engineering Department where I use my technical expertise to provide performance analysis, modeling and simulation of various communication systems. My work includes supporting risk reduction activities for different programs as well as developing innovative approaches to solve difficult communication-related technical problems.
Who or what inspires you? Why?
My mother is my biggest source of inspiration. She is the strongest person I know of. She faced a lot of adversity in her life, but always managed to overcome difficulties through hard work and perseverance.
When was the moment you realized that you wanted to make this your career?
I realized I wanted to be an engineer or a scientist during my high school years. I loved math and science and although I did not know exactly what kind of engineer/scientist I will be, I knew I wanted to pursue a degree in a technical field.
What work outside of your own department is Aerospace doing that excites you the most?
I find a lot of the work done by the iLab initiative exciting, as it focuses on innovation, new ideas and concepts that have the potential to become unique technologies and solutions for future space systems.
Why did you choose to work at Aerospace?
I chose Aerospace because I wanted the opportunity to work on challenging, diverse, and interesting technical problems in digital communications. I wanted to work with and learn from some of the brightest and most knowledgeable engineers in the field.
What advice would you give to an engineer joining The Aerospace Corporation?
My advice to an engineer joining Aerospace Corporation would be to start making connections with peers inside and outside their department, learn from the experience of senior engineers and managers, and have fun working on developing novel solutions for difficult technical problems.
If you're interested in joining the Aerospace team, be sure to visit our careers page.