While the COVID-19 pandemic has introduced a myriad of unique challenges and disruptions across the space enterprise, The Aerospace Corporation continues to find new opportunities to adapt and innovate to deliver on the mission.
A recent example is ArgoMoon: one of the CubeSats slated to launch as part of NASA Artemis I's payload from the Kennedy Space Center (KSC) in November. The nanosatellite will perform an autonomous proximity flight inspection operation during the Space Launch System's (SLS) maiden flight to confirm successful deployment of the payload. Aerospace recently provided critical support in overcoming an unforeseen obstacle to ensure the mission continued without delay.
Adaptability and Responsiveness
ArgoMoon's micropropulsion system utilizes a green ionic liquid-based propellant known as LMP-103S, which requires a license to handle. Under normal circumstances, the nanosatellite's propellant filling operation is completed at the launch facility. However, COVID-19 travel restrictions prevented the prime supplier from traveling. With a pressing timeline, Aerospace was asked to provide assistance.   
"There was an urgent need to fill this CubeSat and Aerospace was able to act fast to meet this deadline," said Dr. Andrew Cortopassi, a laboratory manager in the Propulsion Science Department. "We have handled this propellant before, although not typically for pit stop-like operations."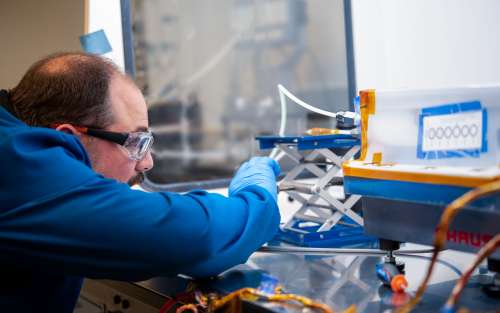 The propellant was loaded into ArgoMoon's micropropulsion system using a custom filling cart developed in Aerospace's Propulsion Research Facility on the El Segundo, Calif. campus. Operating under a tight deadline, the Aerospace team in the Propulsion Science Department was able to successfully fill the satellite with the required propellant in time to be delivered to KSC for payload integration. This event is the first time a CubeSat was filled with LMP-103S prior to shipment to the launch facility.
The successful filling operation of ArgoMoon is indicative of Aerospace's breadth and depth of technical expertise in the field of propulsion technology.
Propelling Space Technologies Forward
Micropropulsion is just one of the areas Aerospace's scientists and engineers focus on. Personnel are experienced in handling and testing different propulsion technologies, including chemical and electrical.
At its Propulsion Research Facility, Aerospace is applying state-of-the-art diagnostics to analyze the interaction between chemistry and physics—conducting evaluations that only a handful of others in the United States can. Besides assessing propellants, typical activities within this building can include investigating rocket engines and operating high-pressure gaseous supply systems.
The Electric Propulsion Lab is dedicated to comprehensive appraisal of electric propulsion thrusters. The space can conduct evaluations, from measuring the amount of thrust to using non-invasive testing methods, on thrusters of various sizes.
"There are a lot of companies that have developed thrusters," Cortopassi said. "But these companies and our traditional customers look to us to understand if these propulsion devices are ready to move out of the laboratory and into operation. Aerospace has the experience to test and make these evaluations."
To learn more about Aerospace's capabilities in propulsion technology, be sure to read How Aerospace Propels Spacecraft into the Future.
Space News Happens Fast
Don't miss out on the latest from Aerospace