Aerospace joined in a national pledge to celebrate the company's interns July 26 during the second annual National Intern Day, a nationwide event created and hosted by WayUp, an early careers networking organization.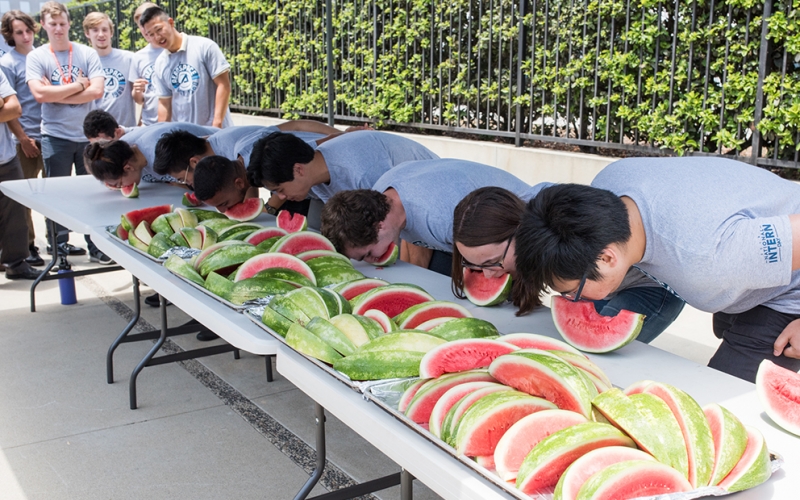 Aerospace in Running for WayUp Best Internship List
Along with encouraging company pledges, WayUp holds annual competitions – the Intern 100 and the Top 100 Internship Programs list – to find each year's best interns and best company internship programs. Aerospace's internship program is currently in the running to be included in that top 100.
"Hundreds of corporations and thousands of interns across the country took a pledge to come together on what has become "National Intern Day" to celebrate the experiences and contributions that interns bring to the workplace," said Heather Laychak, Aerospace vice president and chief people officer. "The Aerospace Corporation is delighted to take this pledge and recognize our interns and give them a day to have some fun on our various campuses."
Internship Work Showcased on Social Media
The two campuses with the largest intern populations – El Segundo and Chantilly – hosted events with games and food. All other locations participated by taking their interns to lunch. In addition, intern spotlights ran throughout the week on Aerospace's social media, including Twitter and Instagram, showcasing 42 interns and their projects this summer.
Home to 32 interns, the Chantilly events included a relay race and scavenger hunt, along with a Mexican fiesta-style lunch and cake.  The El Segundo campus hosted a carnival-themed event for its 232 interns with a picnic lunch of summertime favorites like hamburgers, hot dogs, snow cones, and popcorn, along with many games, including a life-size Jenga and a dunk tank.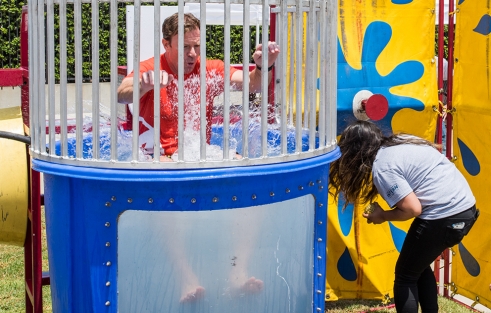 After participating in TECTalk, (intern educational and career development events) all summer, the interns nominated TECTalk co-presidents Mike Williams and Caley Albert for the dunk tank. CFO Ellen Beatty and vice president of launch program operations, Randy Kendall were also willing dunking participants. All four were promptly cooled off with multiple dips into the tank within minutes of taking their seats.
"We promise that dunking our CFO and vice president of launch program operations will have no bearing on your future employment with The Aerospace Corporation!" Laychak laughed.
Interns are Vital to Recruitment and Talent Acquisition
Each year, Aerospace's interns make real and valuable contributions to the company, and are a key recruitment target. The Aerospace Internship Program serves as a strategic pipeline of future talent for the company. Last year, 58 percent of the eligible interns became full time employees at Aerospace.
"Our conversion rate is fantastic and well above the national average of 51.3 percent.** Internships are key to providing exposure and building experience as a student," said Angela Couture, Aerospace's director of university relations and recruiting.  She added, "Interns bring new ideas and the latest skills, and help build the future workforce. It's a win-win for the student and employer."
**Source: National Association of Colleges and Employers