Humanity has long dreamed of exploring and colonizing the farthest reaches of our galaxy. Now advancements in propulsion, additive manufacturing, EVA suits and other space technology that will enable human life on other planets are bringing those dreams closer to reality.
As the aerospace industry prepares for this future, ASCEND, a global community focused on building humanity's off-world future faster, announced the 2021 Guiding Coalition, an advisory board of technical, scientific, engineering, and business leaders selected to help maximize the ASCEND community's reach and impact through content and events. The 2021 ASCEND Guiding Coalition is made up of 33 members including The Aerospace Corporation's Todd Nygren, senior vice president of the Engineering and Technology Group, who joins representatives from the U.S. Space Force, NASA's Jet Propulsion Laboratory, Space X, Blue Origin and others representing traditional aerospace sectors and adjacent industries, such as construction and investment banking.
"Humanity's future in space requires leaders and innovators from a cross-section of industries including the space enterprise, economics, policy and beyond," said Nygren. "The Guiding Coalition will provide guidance on the important issues and developments that impact humanity's ambitious plans in space."
Launched in 2020 by AIAA, ASCEND includes a series of programs designed to accelerate space commerce, exploration and discovery. The 2021 ASCEND schedule includes a series of quarterly online programs followed by a November event held in Las Vegas and streamed online featuring presentations and conversations led by thought leaders from across the space enterprise. Topics will focus on the path forward in space including the challenges, latest innovations and pathways to success.
In addition to developing the strategic direction of ASCEND, the Guiding Coalition will also strategize on developing a pipeline of talent in the space enterprise. Those efforts include addressing the needs of early- and mid-career professionals and attracting a multidisciplinary community of students, professionals, and serious enthusiasts who are pursuing their interests in space.
"ASCEND puts exceptional technical content in a larger context designed to attract a wider audience to our year-round conversation about living and working in space. Our goal is to connect technical experts with business and government leaders from aerospace and adjacent industries to discuss, test, build, and solve problems together," said Rob Meyerson, executive producer of ASCEND.
ASCEND will announce details for the November event later this month with registration expected to open in early July. The Las Vegas event will follow all local guidelines to ensure attendee safety and comfort.
"ASCEND is connecting leaders across disciplines in bold, new ways. AIAA is unique in our ability to convene the technical conversation, so that expertise can inform the economics and the policies of space exploration," said Dan Dumbacher, AIAA executive director. "We want to have the hard conversations and drive the intentional outputs to accelerate building our off-world future."
About Aerospace
The Aerospace Corporation is a national nonprofit corporation that operates a federally funded research and development center and has approximately 4,000 employees nationwide. With major locations in El Segundo, Calif.; Albuquerque, N.M.; Colorado Springs, Colo.; and Washington, D.C., Aerospace addresses complex problems with agility, innovation, and objective technical leadership across the space enterprise and other areas of national significance. For more information, visit www.aerospace.org. Follow us on Twitter: @AerospaceCorp.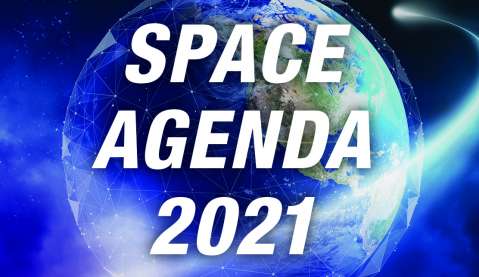 Space Agenda 2021
Space exploration, development, and security are increasingly important elements of national policy and strategy. Inevitably, the presidential term starting in 2021 will include the need for many high-level decisions on space-related issues. Aerospace has created a series of discussion papers—Space Agenda 2021—on topics already at the forefront, or likely to emerge in the next few years.
The Space Policy Show: Space Agenda 2021 Showcase
The Aerospace Corporation's Center for Space Policy and Strategy hosts a series of public webcasts to bring our policy experts together with thought leaders, government, academia and professionals from throughout the space community to discuss current trends and views.
Space News Happens Fast
Don't miss out on the latest from Aerospace