The emergence of commercial space capabilities is rapidly evolving how the hardest problems in space can be solved. Adopting innovative thinking and identifying diverse approaches can help accelerate success for the space enterprise. The Aerospace Corporation looks to advance pathways that match commercial solutions that meet and anticipate the needs of its government customers.
A case in point is Aerospace's work on Ironsight, a testbed dedicated to supporting the maturation of emerging technologies for rendezvous, proximity operations and docking (RPOD).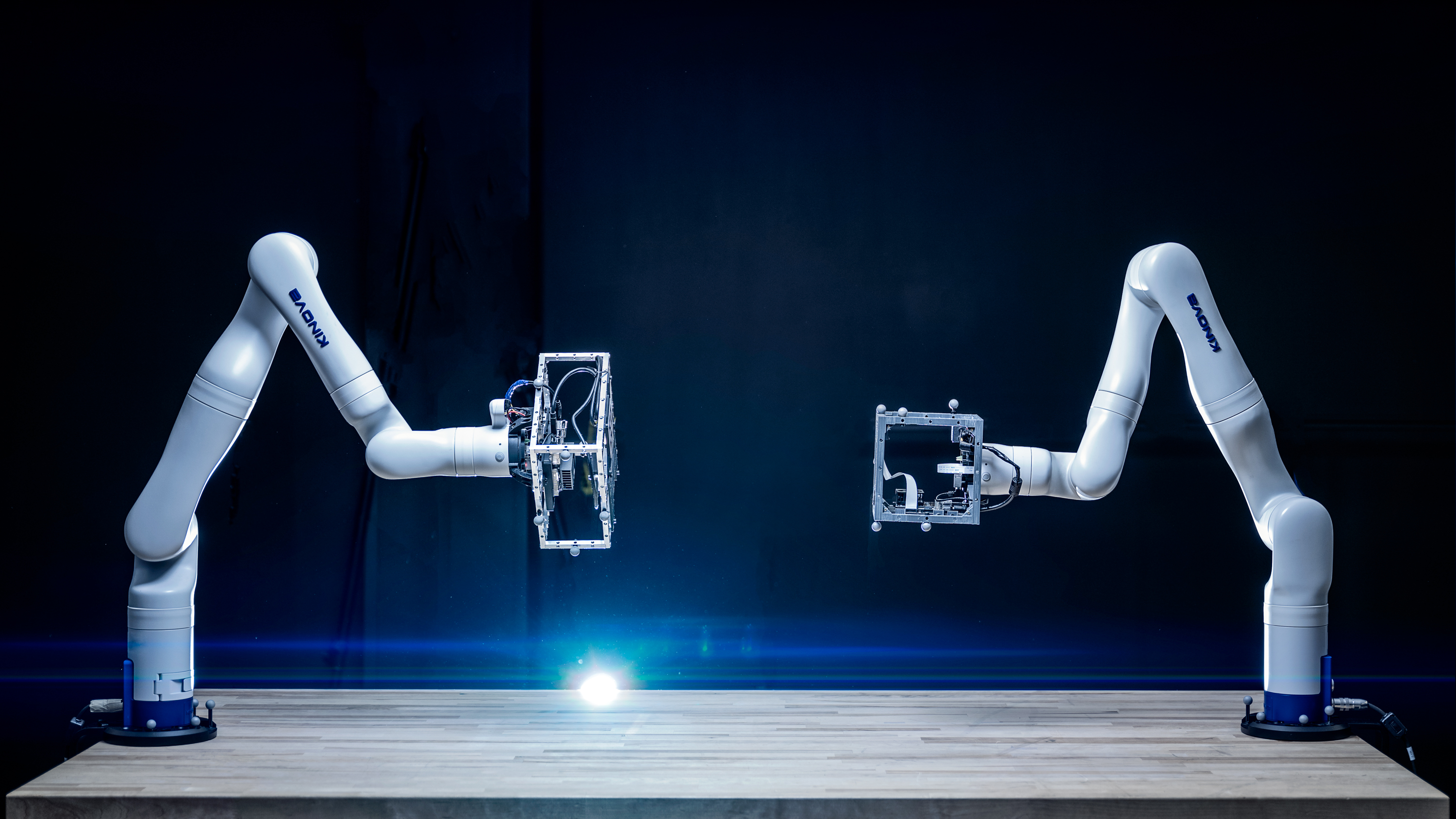 Offering Consistent Support Amid Changing Landscape
A noticeable trend in customers' future roadmaps is RPOD, a capability that involves more than one spacecraft to complete a maneuver. To ensure this technology is safe, validated and ready to be utilized for missions, further research is required.
In-development technology has traditionally undergone testbed evaluations and exercises to reach operational maturity. However, Aerospace's current set of tools and testbeds were originally built for single-vehicle missions and are therefore not compatible to assess novel RPOD technology. Aerospace is filling this capability gap by building tools and testbeds designed to test and mature RPOD technology and advance innovative solutions for the space enterprise.
"There are a lot of new emerging technologies that customers want to use, but they're not sure if those technologies are ready, safe or validated," said Alonzo Lopez, Senior Member of Technical Staff in the Vehicle Systems Division. "Ironsight will help jumpstart the development of tools that can test and validate these technologies. Its symbolic of the evolution of Aerospace's traditional support and research and development role."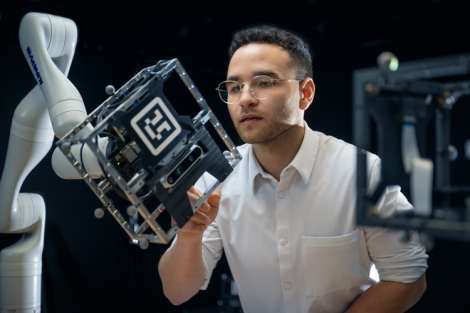 Physically, the testbed features CubeSat frames mounted on the ends of two highly dexterous robotic arms. The arms can simulate six-degrees of freedom, fabricating an ecosystem within the lab that resembles the space environment.
These tangible aspects allow hardware, like sensors and processors, to be tested. Underlying the physical elements of the testbed is a lab network that enables Ironsight to collect data on the performance of RPOD software.
When constructing the testbed, the team took advantage of combining commercial off-the-shelf parts with Aerospace expertise in robotic system control, rapid prototyping and computer vision.
"Our chief role here in this instance is integrating these technologies," said Lopez. "We're providing integration of software and hardware technologies to actually form a capability."
Getting Ready to Hit the Mark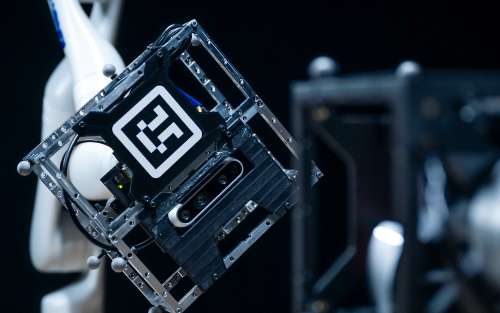 To verify Ironsight's readiness for investigating customers' RPOD-related technology questions, Aerospace engineers conducted experiments to explore and exercise the testbed's capabilities. Tests ranged from applying simultaneous localization and mapping (SLAM) to construct a 3D model of the environment and the adjacent CubeSat frame, to examining the functioning of fiducial markers.
Fiducial markers resemble QR codes and relay key data, such as how far the marker is from the camera or target viewing it. In the future, fiducial markers could be incorporated on spacecraft to enable autonomous satellite servicing tasks, such as refueling operations.
Beyond looking into the overall accuracy of these markers, the team dedicated time to truly understand the technology's intricacies—such as the installation process, calibration routine, and the possible failure modes that exist.
"If you have a shadow cutting across certain types of fiducial markers, it'll corrupt the pose estimate and provide an inaccurate prediction of an object's location," said Lopez. "If you get a bad estimate that says your satellite is further away from its target and starts to maneuver, but in reality it's two inches away, what happens then?"
The empirical study is a starting point in exploring how different fiducial markers work, what the failure modes are, and the recommended types of markers customers should utilize. On a broader scale, the experiment is indicative of the type of analyses Ironsight can perform and demonstrates the intended model for the testbed: responding to RPOD-technology problems by collecting information that can help customers make informed decisions.
A Model for the Future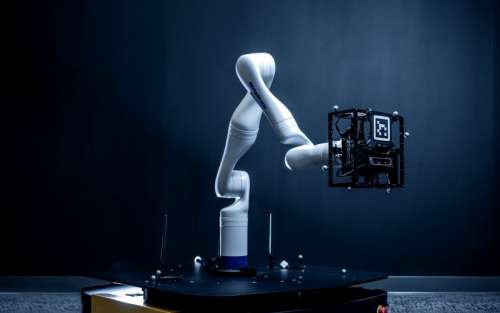 Ironsight is up and running, and additional features are being considered to expand the capabilities of the testbed. Recent additions to the lab's environment include omnidirectional rovers. By mounting the arms on the rovers, the testbed will be able to stimulate maneuvers that span the volume of the lab. The gradual improvements made to Ironsight will continue to support the testbed's original intention of answering customers' questions about new RPOD technologies.
Successfully performing RPOD actions—such as satellite servicing, on-orbit inspection, or refueling—will become increasingly important as the number of spacecraft grow in tandem with the need for sustainability. By conducting empirical studies and collecting data with Ironsight, Aerospace will help build confidence in the developing RPOD field.
"Among customers, the question still remains: can these emerging RPOD technologies be trusted?" said Lopez. "With Ironsight, we can take in these new technologies, test them to ensure they meet the specifications required for those types of missions, and then advise our customers what technology to acquire—making sure they're smart buyers."
Ironsight's work contributes to Aerospace's larger goal of supporting multivehicle missions as best as possible.